Recentemente ho avuto modo di provare nuovamente il Keeley Dark Side.
Le impressioni rimangono quelle estremamente positive già avute in occasione della mia prima prova.
Vi riporto quindi un po' di informazioni tecniche sul pedale ed il nuovo video 2022.
DARK SIDE – AGGIORNAMENTO 2022
Il Dark Side della Keeley è un pedale multieffetto profondamente ispirato ai Pink Floyd e David Gilmour: già dal nome e dal suo aspetto, con il triangolo ispirato al prisma dell'omonima copertina ben visibile al centro del pedale, lascia intendere le sonorità che vuole richiamare.
Il pedale è composto da tre moduli fondamentali: Fuzz, Modulazione e Delay.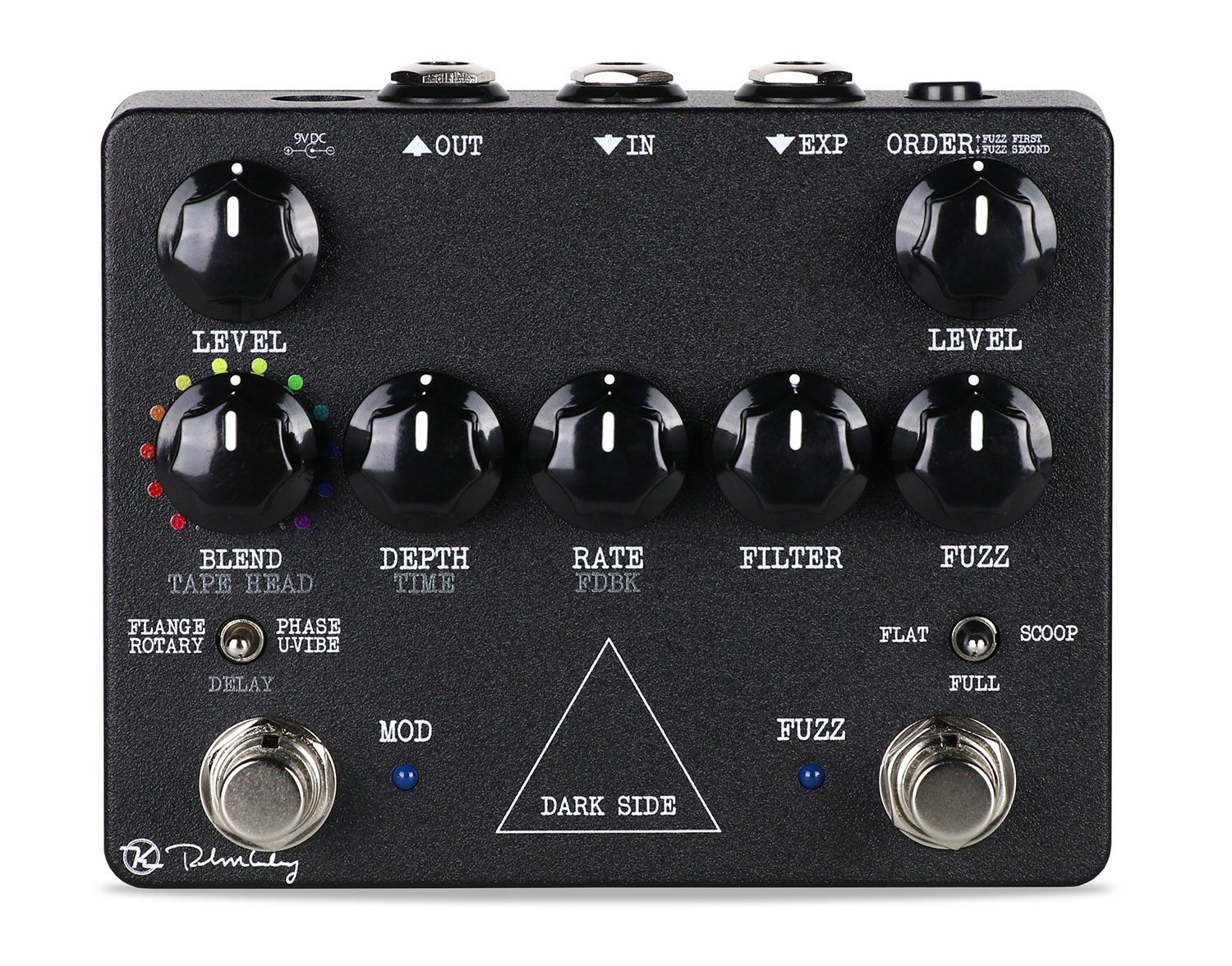 FUZZ
Il Fuzz (analogico) è ispirato alla distorsione in stile opamp del 1977.
Il suono è molto trasparente e con un lungo sustain.
Oltre ai classici controlli (volume, fuzz, tono) è presente uno switch che permette di selezionare tra tre differenti modalità di gestione dei medi: FLAT, FULL, SCOOP
MODULAZIONE (FLANGER, ROTARY, PHASER, UVIBE)
Tutti gli effetti di modulazione sono realizzati digitalmente e si ispirano alle principali modulazioni usate dai Pink Floyd e David Gilmour: il Flange richiama direttamente l'Electric Mistress mentre il Rotary si rifà al Leslie, il Phaser è ispirato all'MXR phase e infine l'Uvibe richiama chiaramente il sound caldo dell'univibe.
DELAY
Il delay è (ovviamente) ispirato agli echo a nastro multitestina degli anni '60.
Vengono simulate le quattro testine tipiche di quegli echo, con le relative combinazioni di utilizzo: è possibile quindi scegliere 12 diversi programmi che riproducono altrettante differenti combinazioni di testine.
Il sound è rotondo e scuro come negli echo a nastro del periodo, con ripetizioni degradate e un feedback che tende facilmente all'auto oscillazione.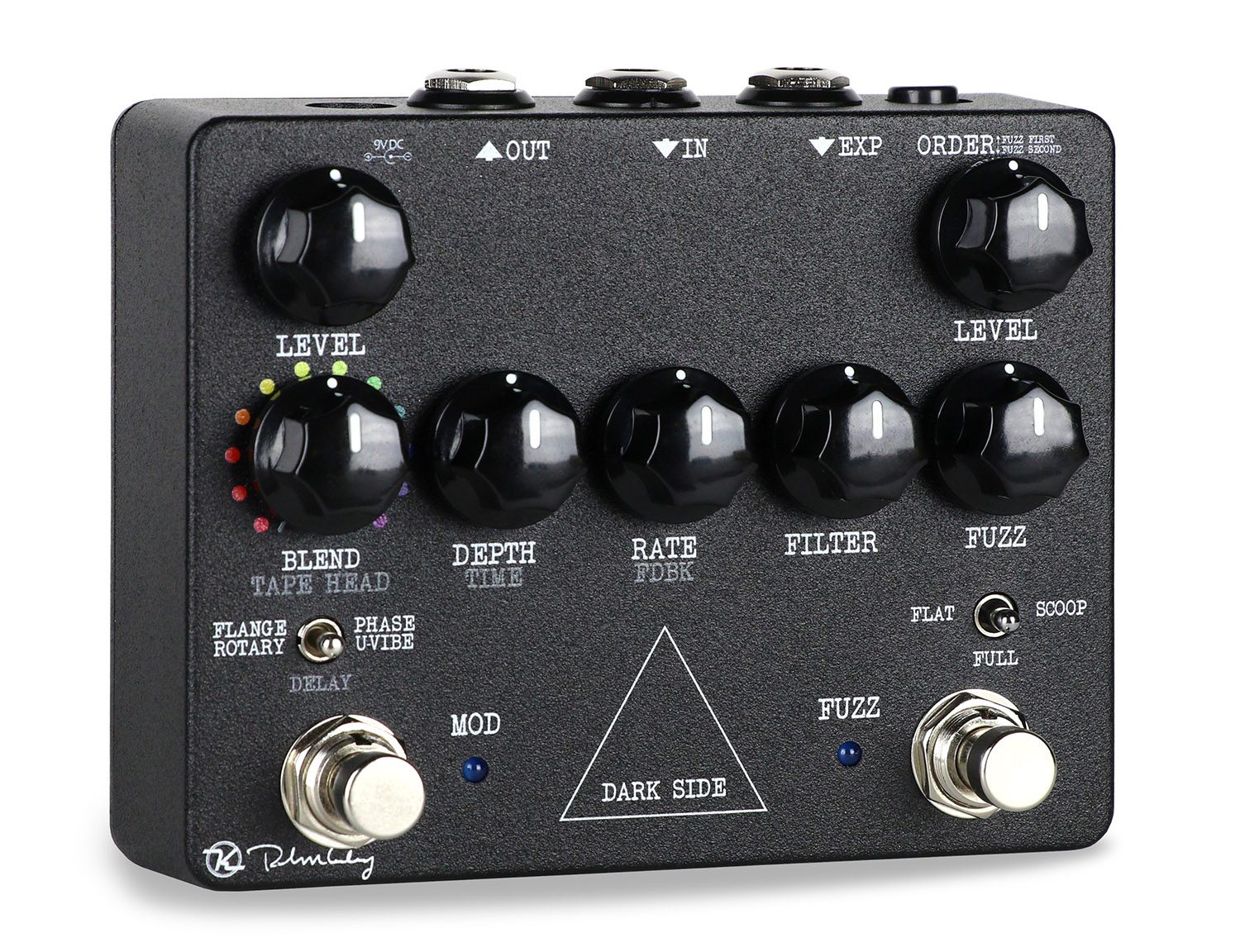 CONTROLLI
Le opzioni di controllo sono molte e permettono di spaziare in tantissime diverse sonorità.
Gli effetti utilizzabili contemporaneamente sono due: FUZZ e MOD/DELAY.
Entrambi selezionabili distintamente con i due switch a pedale.
Il lato destro del pedale è occupato dalla sezione FUZZ, con il footswitch dedicato ed i controlli dedicati che sono : Level, Fuzz, Filter e il mini switch per la gestione dei medi.
Il lato sinistro del pedale è dedicato alla sezione MOD/DELAY.
Il footswitch attiva o disattiva l'effetto digitale selezionato dal mini switch sulla sinistra: Flange/Rotary, Phase/U-Vibe o Delay.
Quando si utilizzano le modulazioni è possibile anche miscelare due effetti tra loro, selezionando tra l'accoppiata Flanger/Rotary e Phaser/Univibe.
Per le modulazioni i controlli sono: Level, Blend, Depth e Rate.
Per il Delay (Echo) i controllo sono: Level, Tape Head, Time, Fdbk
Sul retro del pedale oltre ai normali jack IN e OUT è presente un jack TRS per il collegamento di un pedale di espressione (opzionale) che permette di controllare RATE/FBCK dell'effetto in uso.
Infine, sempre sul retro del pedale, è presente uno switch per la gestione dell'ordine della catena di effetti interna (Fuzz first/last)
L'alimentazione è 9V standard (centrale negativo) con un assorbimento di circa 75mA
Questa la pagina al sito ufficiale KEELEY DARK SIDE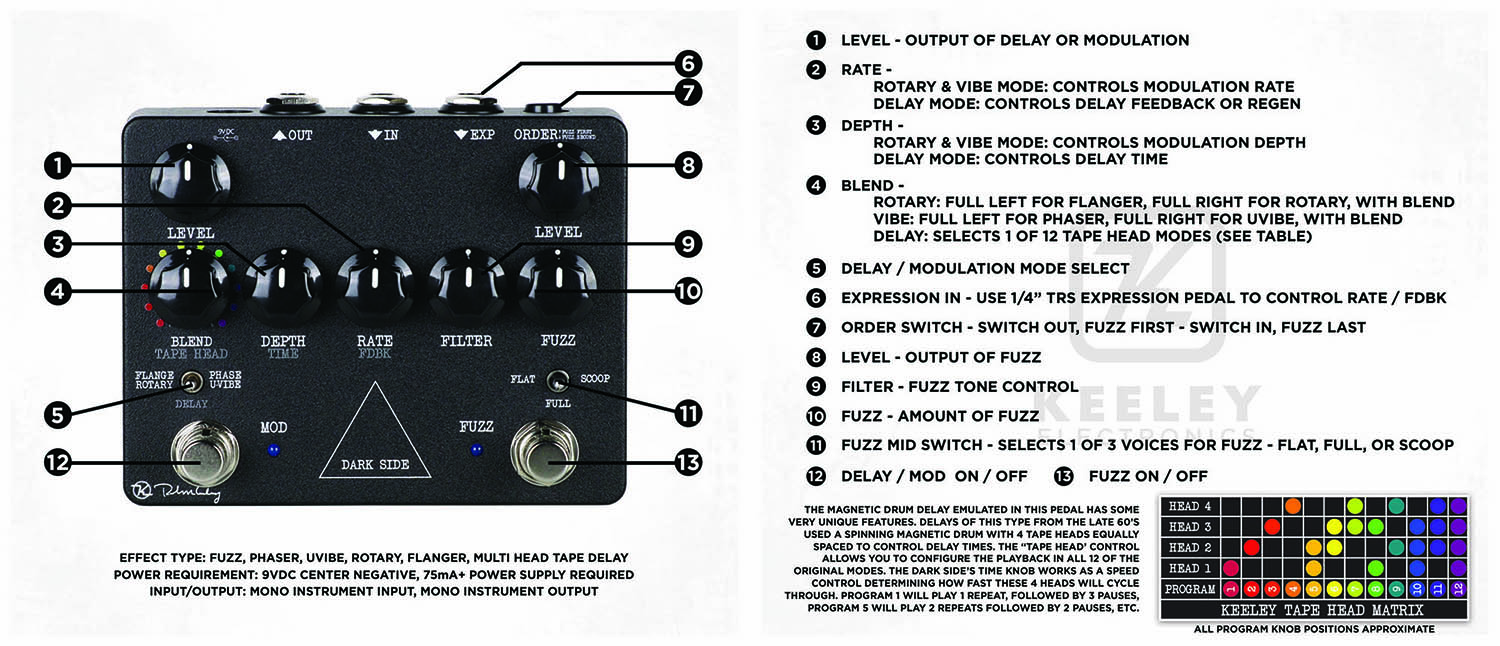 SUONO
Ecco qualche esempio di suono
MODULATION COMPARISON ON SYD'S THEME
Flanger 0:00 – Rotary 0:11 – Blend 0:20
Phaser 0:32 – Univibe 0:43 – Blend 0:53

UNIVIBE – BRAIN DAMAGE

ECHO multihead – TIME INTRO

ROTARY – US AND THEM

FLANGER (strumming) – DOGS

FUZZ + PHASER – HAVE A CIGAR

ECHO single head – SET THE CONTROLS

FUZZ + ECHO – ECHOES

FUZZ + FLANGER – FLETCHER MEMORIAL

VIDEO
E infine la video recensione … buona visione!