Il setup usato in studio per The Division Bell è in mix tra la pedalboard Cornish realizzata per il tour di "Delicate Sound Of Thunder" ed alcuni effetti aggiuntivi.
In questa foto pubblicata sul canale facebook dei Pink Floyd in occasione del lancio di The Endless River, si può vedere condensato tutto il setup di Gilmour per le registrazioni del 1993-94.
Il setup degli amp è con una coppia di Fender Bassman e Hiwatt SA212 per ogni canale, con l'aggiunta di un Maestro Rover Rotating Speaker.
La (infinita) catena effetti è costituita da due pedalboard Cornish con nel mezzo una serie di altri pedali.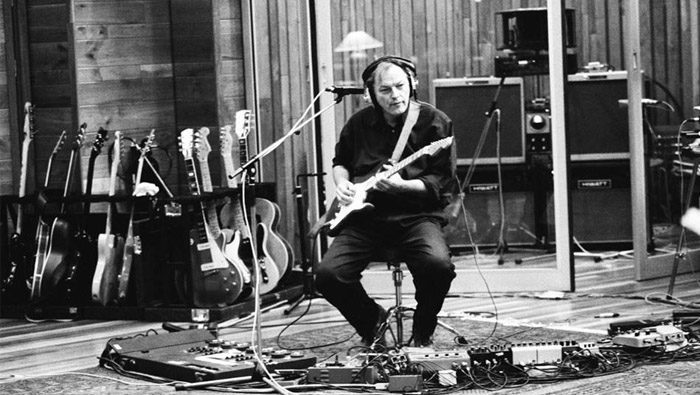 PEDALBOARD ED EFFETTI AGGIUNTIVI
MXR Dynacomp
Pete Cornish SS-2
Electro Harmonix Big Muff ("Ram's Head")
Electro Harmonix Electric Mistress
Boss GE-7
Boss CE-2 Chrous
Boss DD-2 Delay
Univox Super Fuzz
Colorsound Power Boost
Boss CS-2
Sovtek Big Muff
ProCo RAT II
2x Chandler Tube Driver
Pete Cornish Soft Sustain
Uni-Vibe
Roland BF-1 flanger
Roland AP-7 Jet Phaser
Demeter Tremulator
Digitech Whammy
Heil Talk Box
Zoom MFX
E-Bow
MXR Digital Delay
Alesis Quadraverb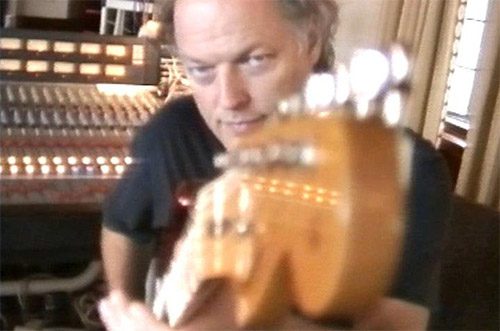 POSSIBILI IMPOSTAZIONI DEGLI EFFETTI
BOSS CS-2
Level 70% • Tone 40% • Sustain 45%
CHANDLER Tube Driver #1 – Clean
Level 70% • Hi 40% • Low 70% • Drive 10%
CHANDLER Tube Driver #2 – Overdrive
Level 45% • Hi 45% • Low 80% • Drive 90%
SOVTEK Big Muff
Sustain 70% • Volume 50% • Tone 30%
BOSS CE-2
Speed 40% • Depth 60%
IMPOSTAZIONI DEGLI EFFETTI PER BRANO
Sia nella versione studio sia in quelle live è sempre presente un effetto di modulazione dovuto all'uso di speaker rotanti: Leslie in studio e Doppolas nei live.
CLUSTER ONE
Strat > CS-2 > TC2290
WHAT DO YOU WANT FROM ME ?
Strat > CS-2 > Tube Driver (clean) > RAT > TC2290
POLES APART
Gibson acustica > clean (ritmica)
Strat/Les Paul > CS-2 > Cornish SS-2 > CE-2 > TC2290
MAROONED
Strat > Whammy > CS-2 > Tube Driver (clean) > CE-2 > TC2290
A GREAT DAY FOR FREEDOM
Strat/Les Paul > CS-2 > Tube Driver (clean) > Cornish SS-2 > CE-2 > TC2290
WEARING THE INSIDE OUT
Strat > CS-2 > Tube Driver (clean) > TC2290
TAKE IT BACK
(intro) Strat > CS-2 > TC2290
Strat > CS-2 > Tube Driver (clean) > CE-2 > TC2290
COMING BACK TO LIFE
(intro) Strat > Dynacomp > CE-2 > MXR Delay
(ritmica) Strat > Dynacomp > Tube Driver > CE-2 > MXR Delay
(solo) Strat > Dynacomp > > Tube Driver (overdrive) > CE-2 > TC2290 > MXR Delay
KEEP TALKING
(ritmica) Strat > CS-2 > CE-2 > TC2290
(solo) Strat > CS-2 > Tube Driver (clean) > Muff > CE-2 > TC2290
(talkbox) Strat > CS-2 > Tube Driver (clean) > Muff > CE-2 > TC2290 > Heil talkbox
LOST FOR WORDS
Acustica (Gibson) > clean
HIGH HOPES
Acustica (Gibson) > clean
(solo) Slide > CS-2 > Muff > CE-2 > TC2290