Grazie alla collaborazione con Gold Music ho avuto modo di provare il Keeley Loomer e queste sono le mi impressioni.
KEELEY LOOMER
Il Loomer della Keeley è un pedale multieffetto molto simile nell'impostazione al già conosciuto Dark Side (di cui trovate qui sul blog due recensioni), ma in questo caso cambia la sezione modulazione del pedale.
Il pedale è composto da due moduli fondamentali: Fuzz e Reverb.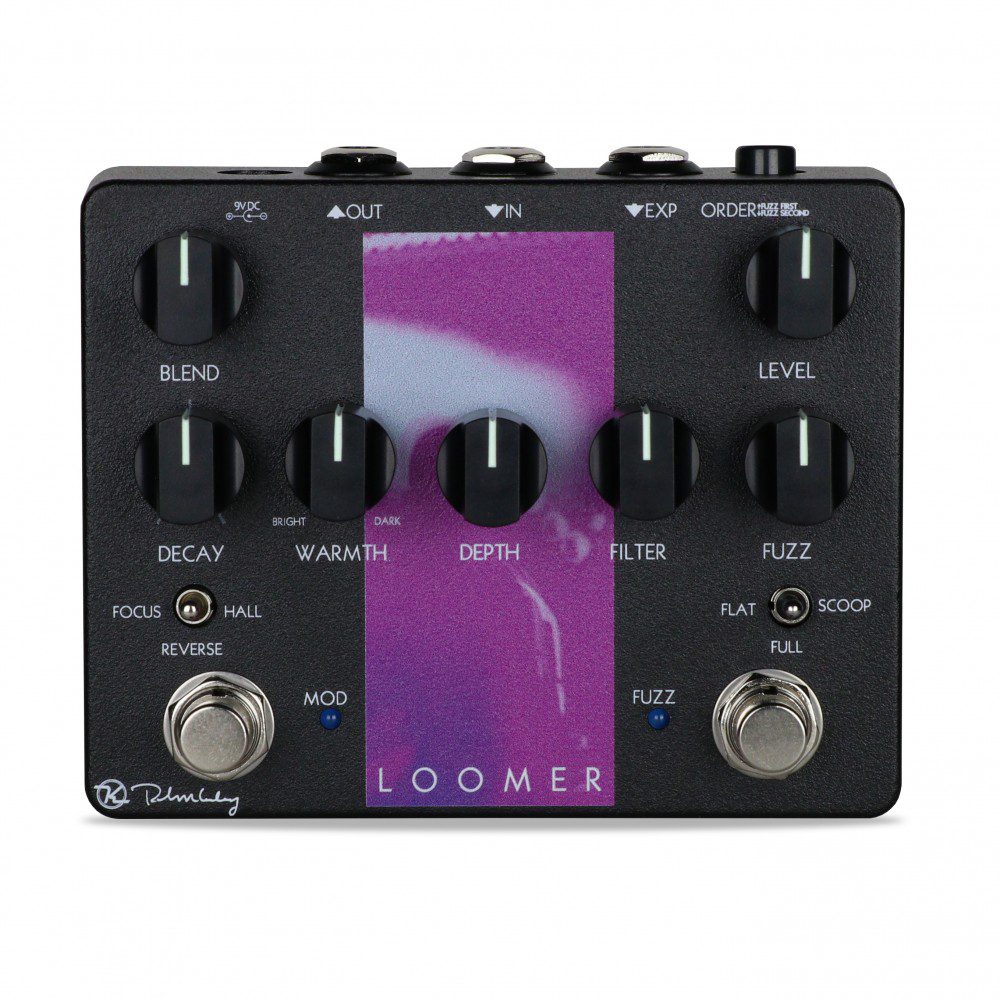 FUZZ
Il Fuzz (analogico) è ispirato alla distorsione in stile opamp del 1977.
Il suono è molto trasparente e con un lungo sustain.
Oltre ai classici controlli (volume, fuzz, tono) è presente uno switch che permette di selezionare tra tre differenti modalità di gestione dei medi: FLAT, FULL, SCOOP
REVERB
La sezione Reverb permette di scegliere tra 3 diversi tipi di reverb: Focus, Reverse, Hall.
Focus è ispirato alla patch Soft Focus del Yamaha FX500, un reverb denso con due delay in parallelo (250ms + 380ms) ed una modulazione con 4 voci chorus con fixed rate.
Reverse è invece ispirato al sound dello Yamaha SPX90 e dell'Alesis Midiverb II ed è realizzato attraverso una serie di delay che realizzano un "playing back" a volumi differenti con una modulazione che emula il pitch bend che si otterrebbe con il tremolo di una jazzmaster o jaguar.
Hall è un reverb lungo ambientale con la possibilità di aggiungere un octaver (up) nel feedback.
CONTROLLI
Le opzioni di controllo sono molte e permettono di spaziare in tantissime diverse sonorità.
Gli effetti utilizzabili contemporaneamente sono due: FUZZ e REVERB.
Entrambi selezionabili distintamente con i due switch a pedale.
Il lato destro del pedale è occupato dalla sezione FUZZ, con il footswitch dedicato ed i controlli dedicati che sono : Level, Fuzz, Filter e il mini switch per la gestione dei medi.
Il lato sinistro del pedale è dedicato alla sezione REVERB.
Il footswitch attiva o disattiva l'effetto digitale selezionato dal mini switch sulla sinistra: focus, reverse, hall.
Il blend permette di miscelare il suono effettato con quello originale wet/dry.
Il decay ha funzioni diverse a seconda del reverb utilizzato: in modalità focus determina il decay time del reverb ed il feedback dei due delay, in modalità reverse funziona come uno switch ad 8 posizioni per il decay time (150-200-250-300-350-400-450-55ms), infine in modalità Hall gestisce il decay time del reverb.
Il warmth controlla il tono del reverb e/o della modulazione.
Il depth gestisce il livello di modulazione nelle varie modalità di reverbero e può essere gestito anche esternamente con un pedale di espressione.
Sul retro del pedale oltre ai normali jack IN e OUT è presente un jack TRS per il collegamento di un pedale di espressione-
Infine, sempre sul retro del pedale, è presente uno switch per la gestione dell'ordine della catena di effetti interna (Fuzz first/last)
L'alimentazione è 9V standard (centrale negativo).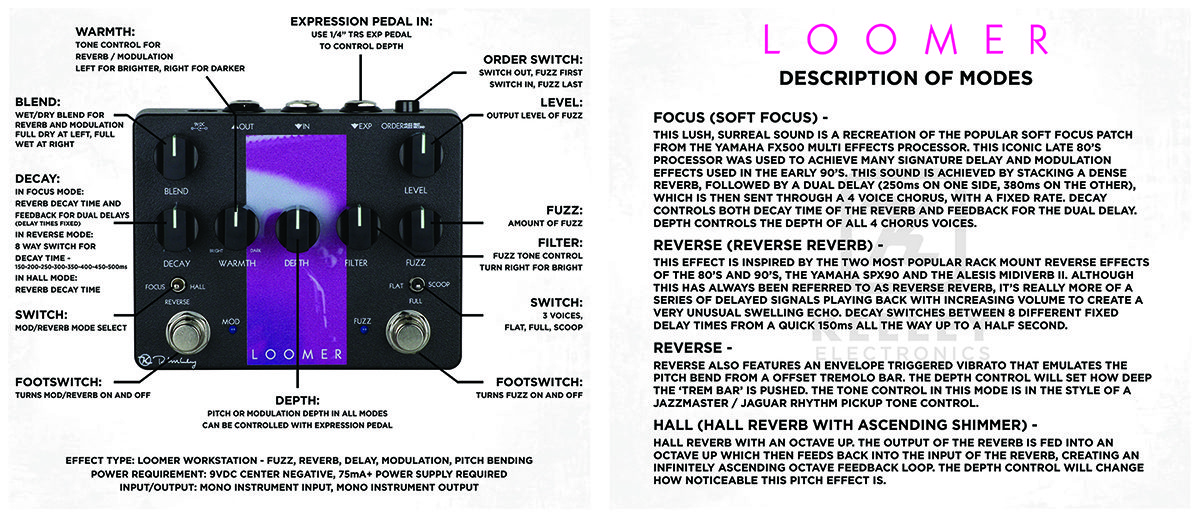 SUONO
Ecco qualche esempio di suono
SAMPLE REVERB FOCUS 
0:00 Normal – 0:20 Max Decay – 0:41 Max Decay + Max Depth – 1:05 Max Blend

SAMPLE REVERB REVERSE
0:00 Max Decay – 0:20 Max Decay + Max Depth

SAMPLE REVERB HALL
0:00 Normal – 0:20 Max Decay – 0:42 Max Decay + Max Depth

FUZZ SCOOP (delay added in mix) – MONEY

FUZZ FLAT (delay added in mix) – ECHOES

REVERB FOCUS + FUZZ FULL (2 guitar tracks) – CAREFULL WITH THAT AXE EUGENE

VIDEO
E infine la video recensione … buona visione!
Qui il link al sito ufficiale > KEELEY LOOMER