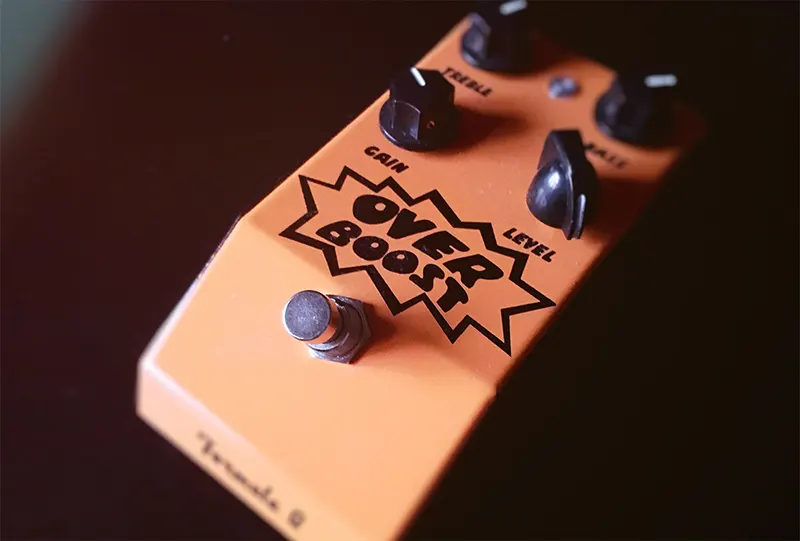 Over Boost
L'Over Boost prodotto dalla Formula B richiama già dal colore e dalla grafica, in modo inequivocabile, l'effetto a cui il pedale si ispira: il Colorsound Power Boost.
Si tratta di un pedale molto versatile in grado di ricoprire molti ruoli, dal boost pulito fino all'overdrive pieno.
E' disponibile sia in versione Deluxe con enclosure in lamiera, sia in versione con box standard.
I controlli sono :
TREBLE: regola i toni alti
BASS: regola i toni bassi
GAIN: regola il livello di gain e quindi il drive
LEVEL: una sorta di Master che bilancia insieme al GAIN la quantità di distorsione/livello di output
Sul retro si trovano i due jack di collegamento (IN , OUT) e il jack di alimentazione (9v).
Il pedale può essere alimentato anche a batteria (9v).
L'over boost è dotato di un duplicatore di tensione interno che lo fa funzionare a 18v come nel primo e originale PowerBoost, in questo modo viene garantita l'headroom tipica del pedale, funzionando comunque con l'alimentazione standard da 9v.
COLORSOUND POWER BOOST
Come sempre quando si parla di pedali ispirati ad un pedale vintage, è utile una brevissima descrizione del pedale originale.
La migliore descrizione forse è quella data dagli stessi progettisti (Joe e Larry Macari) :
"Il Power Boost fu inventato verso la fine degli anni '60, l'idea era di dare ai chitarristi un boost in potenza.
La fortuna volle che quando il pedale veniva attivato suonasse meglio degli stack allora in commercio.
In quel periodo eravamo molto noti ai vetrai per tutti i vetri andati in frantumi in tutta Londra a causa del nostro pedale".
La primissima versione del Power Boost era alimentata a 18v, successivamente per comodità di uso venne introdotta una versione a 9v con box di colore grigio.
Il PowerBoost è stato largamente utilizzato da David Gilmour a partire dai primi anni '70, sia in studio sia live.
Si può vedere il pedale nei set live dei primi anni '70.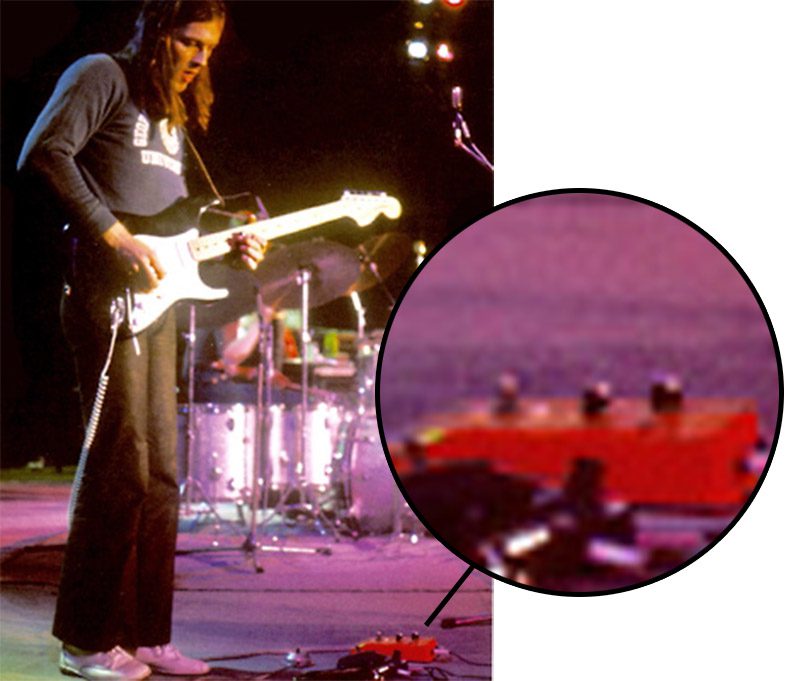 Mentre in studio il Powerboost è stato largamente usato per le registrazioni di Obscured By Clouds, The Dark Side Of The Moon, Wish You Were Here, Animals e per alcune take di The Wall.
Recentemente il Powerboost è tornato a fare la sua comparsa nel setup dello studio Medina.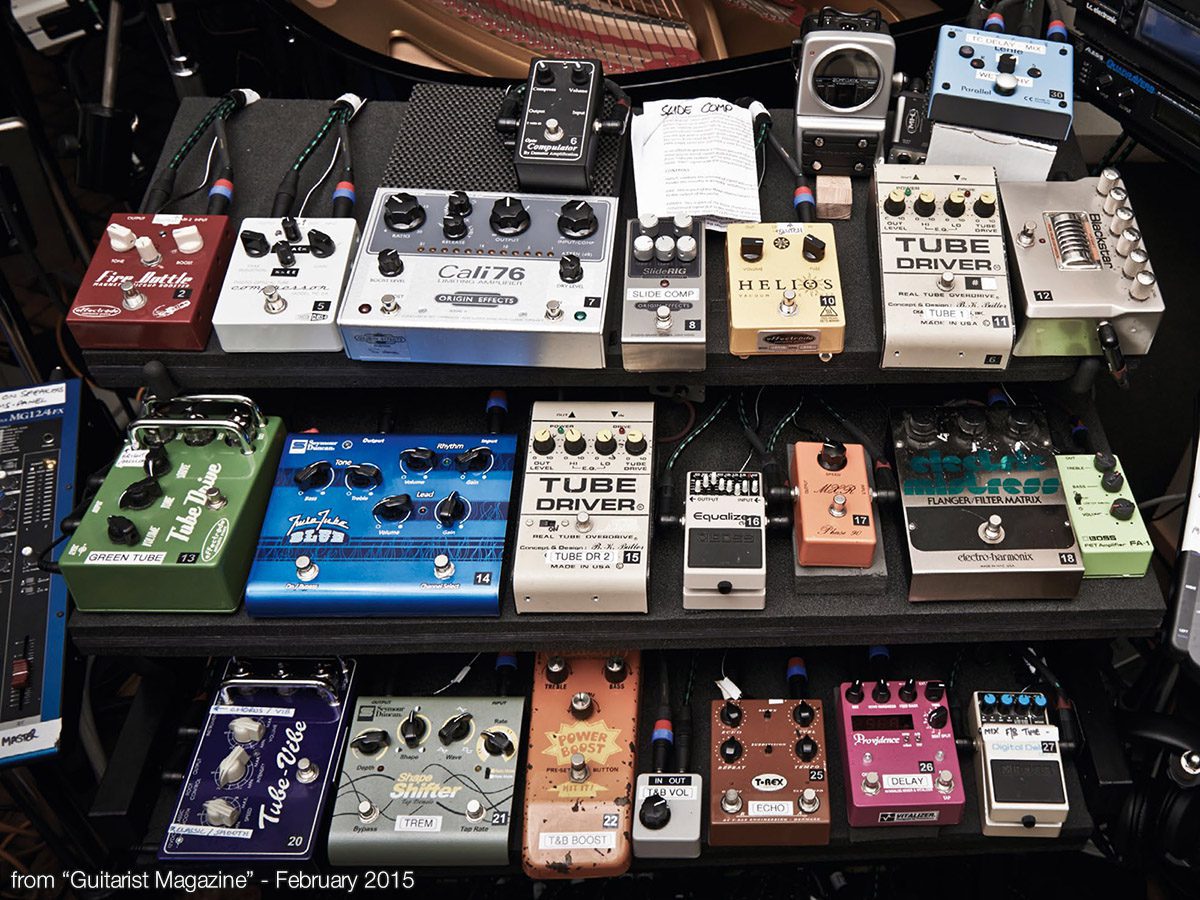 FORMULA B OVER BOOST
L'over boost di Formula B ricalca molto da vicino le caratteristiche dell'effetto a cui si ispira.
Il duplicatore di tensione permette di riprodurre una caratteristica tipica e fondamentale del primo Powerboost: la grande dinamica che, semplicemente variando il tocco del plettro sulle corde, permette di gestire il livello di crunch.
Questo pedale permette di avere molti differenti suoni : dal boost pulito per dare corpo al suono, al crunch leggero da usare per parti ritmiche o per sottolineare un riff, fino all'overdrive pieno, che grazie alla doppia regolazione dei toni, può spaziare da suoni acidi e freddi a suoni caldi e pastosi.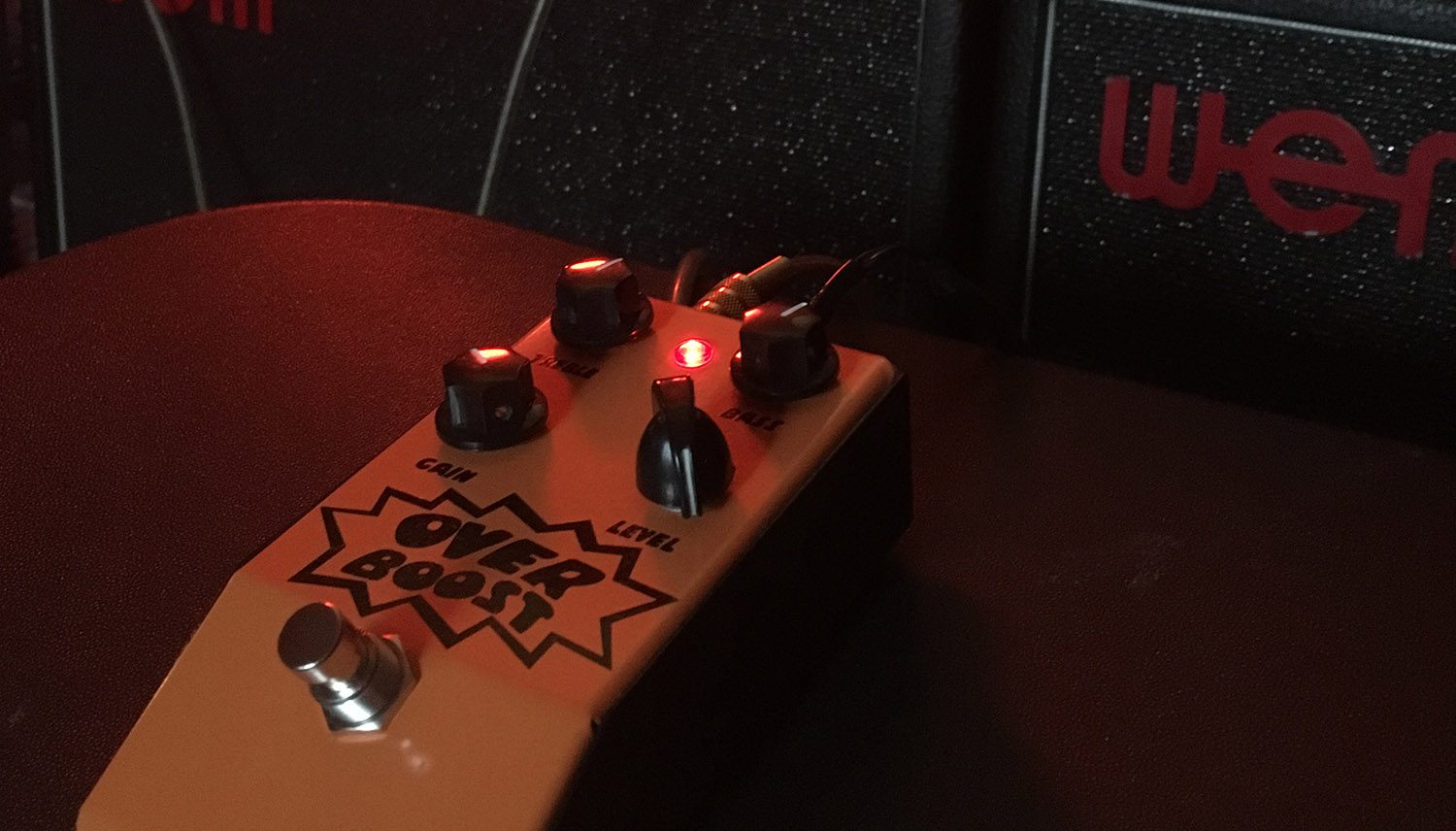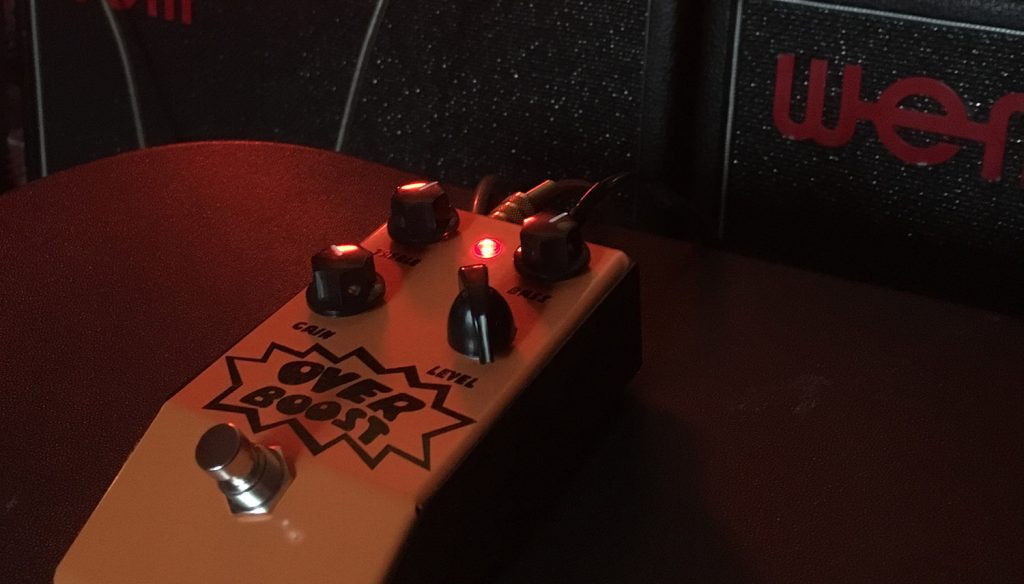 Ecco alcuni sample audio del Formula B Over Boost
SHINE – SYD'S THEME
Black Strat > OVER BOOST (clean boost) > Mod > Delay > Amp
PIGS
Black Strat > OVER BOOST (mild drive) > Mod > Delay > Amp
HAVE A CIGAR
Black Strat > OVER BOOST (light drive) > Mod > Delay > Amp
Black Strat > OVER BOOST (heavy drive) > Mod > Delay > Amp
Qui il link diretto al sito del produttore
http://www.formulab.it/store/it/boost/21-over-boost-deluxe.html