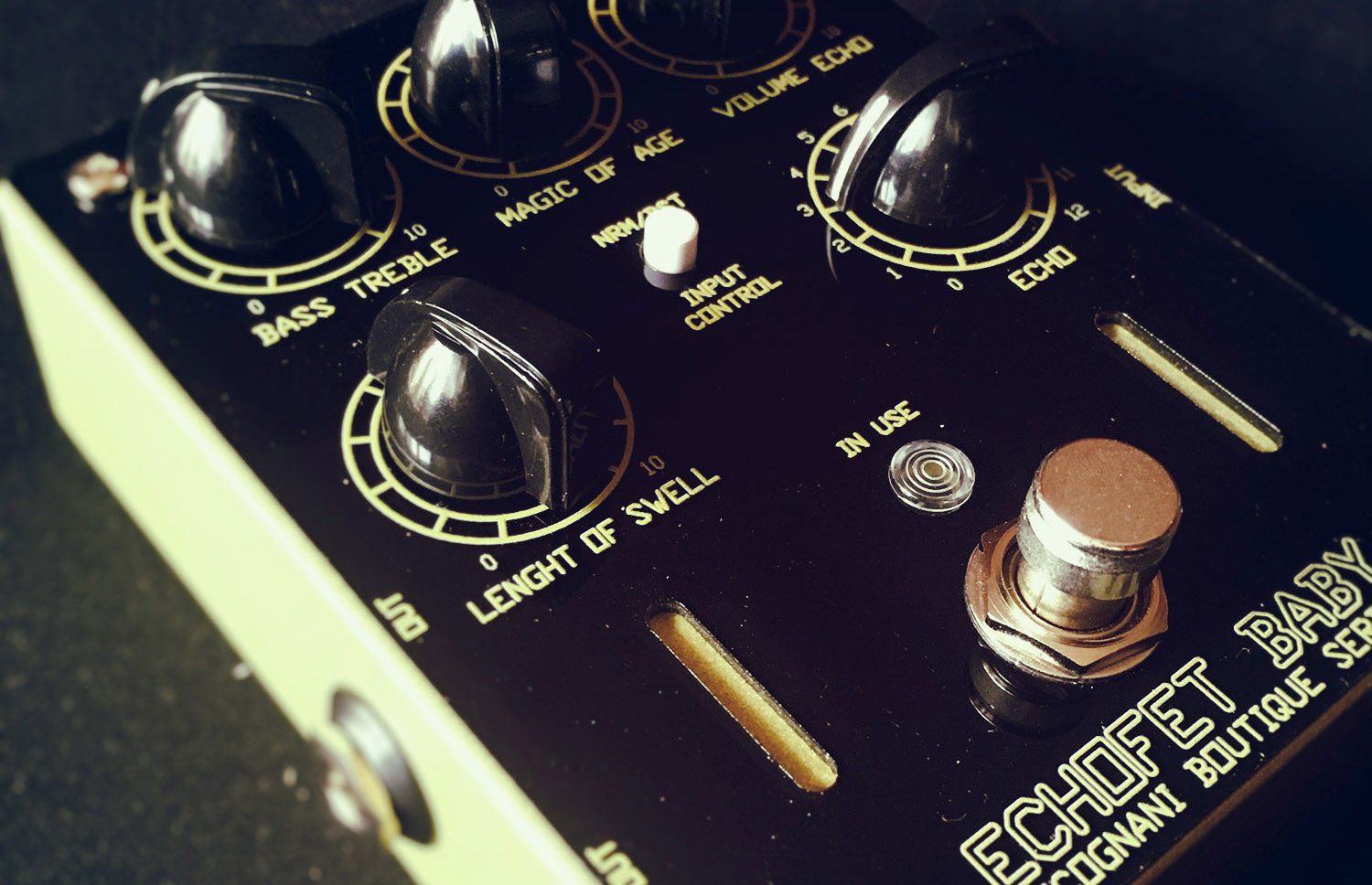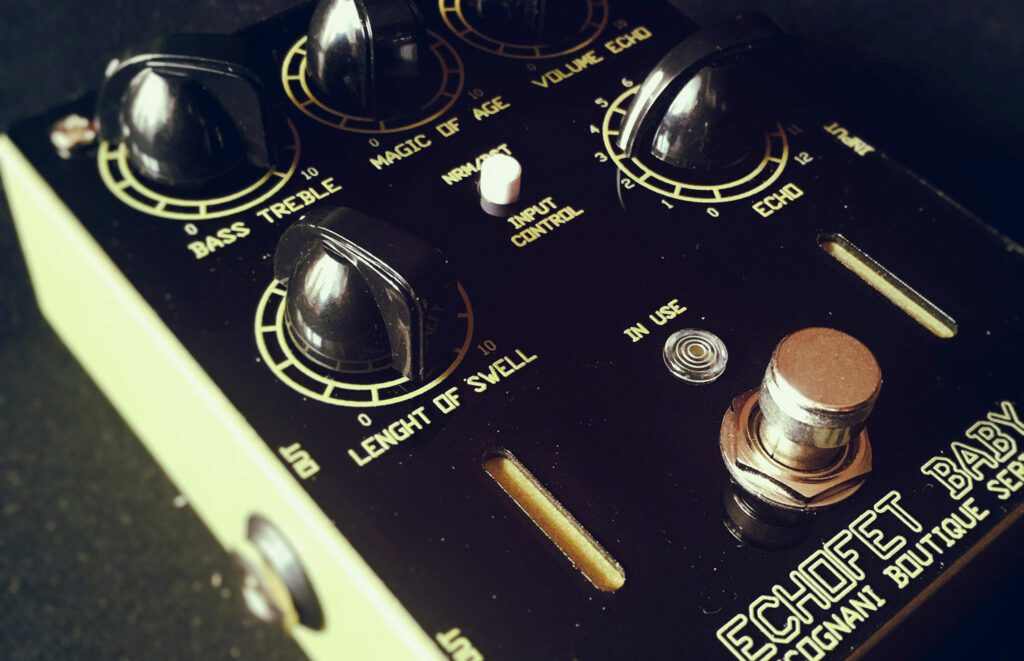 ECHOFET BABY è un'evoluzione dei progetti ECHOSEX 2° ed ECHOSEX T7E ispirati ai suoni magici del leggendario BINSON Echorec.
ECHOFET BABY condivide con i progetti Echosex lo stesso progettista, Guglielmo Cicognani, mentre l'azienda produttrice è la Cicognani Engineering.
Rispetto ai suoi predecessori ECHOFET BABY è un pedale molto più compatto e diretto, che ha guadagnato una maggiore immediatezza di utilizzo, senza rinunciare al sound.
Il pedale si presenta con un box robusto e compatto, con una colorazione verde/oro che richiama l'originale Binson, la parte superiore è in nero lucido con scritte a contrasto.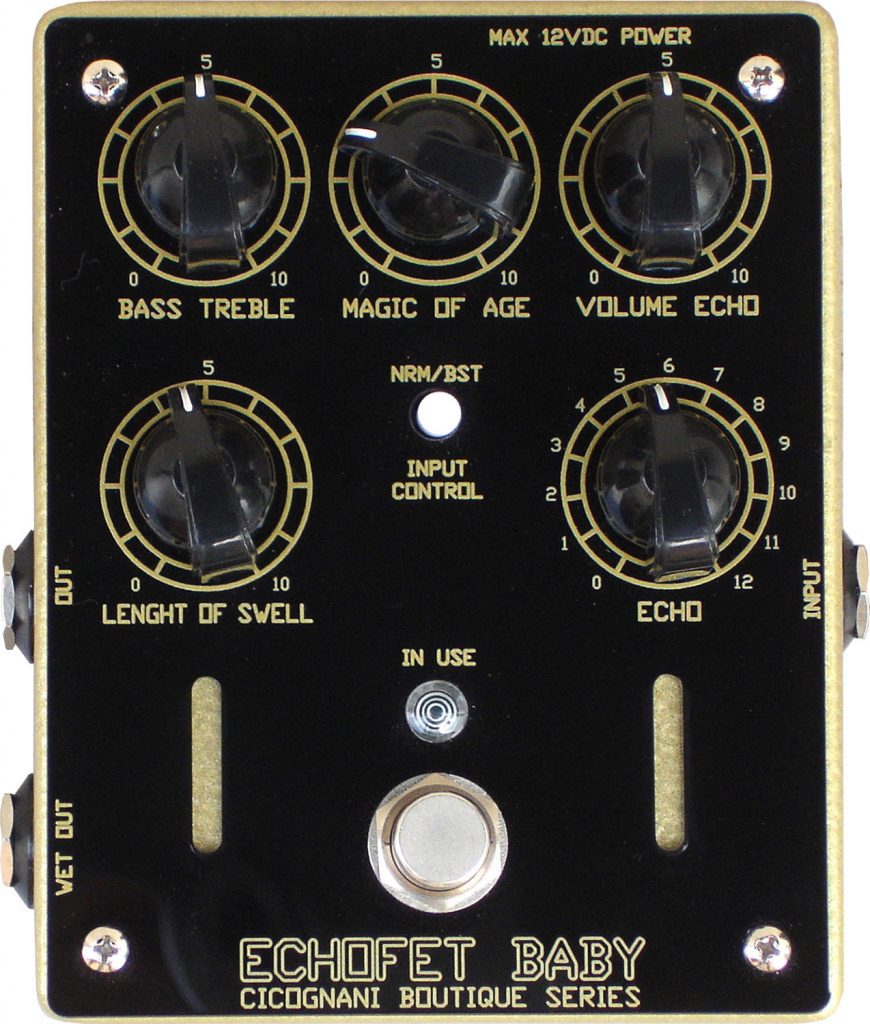 I controlli sono
• BASS/TREBLE: regola il tono delle ripetizioni
• MAGIC OF AGE: regola la modulazione (simulazione del degrado meccanico)
• VOLUME ECHO: regola il volume dell'effetto
• LENGHT OF SWELL: regola la quantità di ripetizioni
• ECHO: regola il tempo di ritardo
• NRM/BST : gestisce il livello del segnale in ingresso (-10db/+4db)
Sui lati sono presenti i jack di collegamento
• INPUT : ingresso a bassa o alta impedenza (selezionabile con il tasto NRM/BST)
• OUT : uscita a bassa impedenza con segnale DRY+WET
• WET OUT : uscita solo effetto, che esclude il controllo VOLUME ECHO
Il jack di alimentazione (9-12v) è sulla parte alta del pedale.
Non è possibile usare il pedale con alimentazione interna (batteria).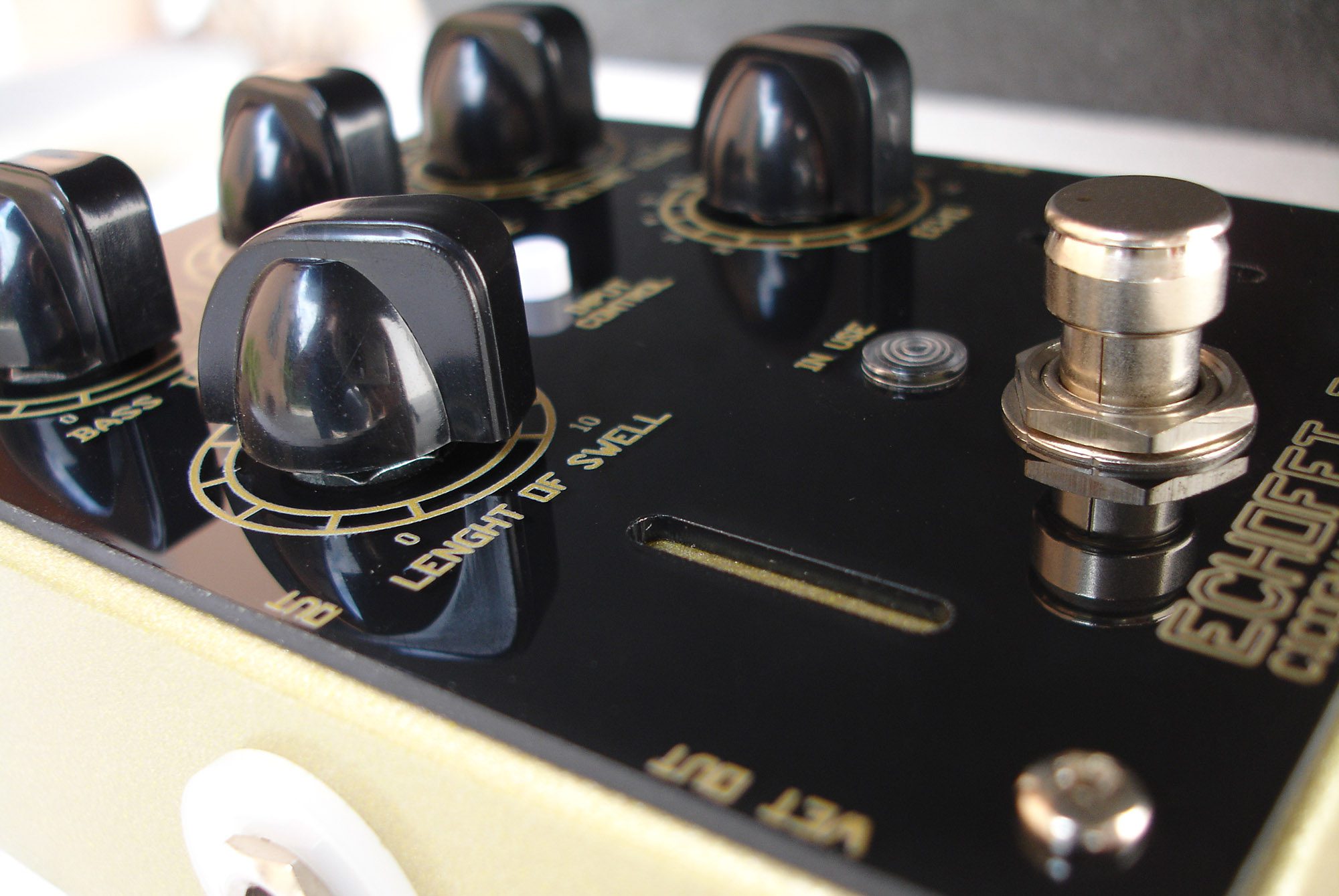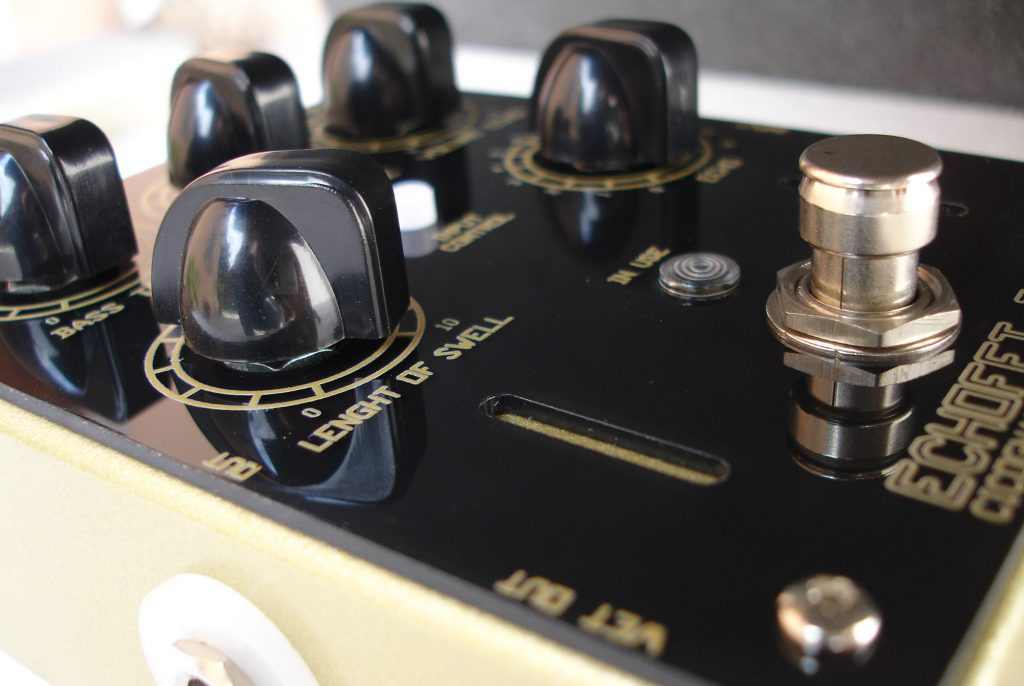 Rispetto i suoi predecessori, ECHOFET BABY è stato totalmente riprogettato utilizzando un'elettronica con tecnologia allo stato solido.
Il preamplificatore è realizzato con JFET e garantisce un'estrema linearità di risposta.
Il percorso del segnale totalmente analogico e la nuova sezione di preamplificazione permettono di avere un suono estremamente dinamico e ricco, con quelle caratteristiche di spazialità e tridimensionalità che così tanto caratterizzavano il Binson Echorec.
I tempi di ritardo vanno da 60 a 680 ms
L'ampio range del tempo di ritardo unito al controllo LENGHT OF SWEEL (feedback) permettono di sperimentare tutti i territori sonori: reverb, echo slapback, short echo, long echo, long echo ambient… fino ad arrivare alla psichedelia delle auto oscillazioni.
Una nota particolare poi merita il controllo MAGIC OF AGE : nel Binson Echorec l'usura meccanica e l'ovalizzazione della ruota gommata di trasmissione generava un'irregolarità nel moto che si tramutava in una particolare modulazione del suono, che era una delle caratteristiche di quel sound unico.
Il controllo MAGIC OF AGE introduce proprio questo tipo di modulazione simulando, nel modo più fedele possibile, l'originale modulazione dell'Echorec dovuta all'usura.
La definizione migliore dell'ECHOFET BABY forse l'ha data lo stesso progettista: una macchina creativa capace di offrire una esperienza nuova.
ECHOFET è proprio questo, uno strumento in grado di stimolare la creatività di chi lo usa, arricchendo e trasformando il suono in dinamica, modulazione e spazialità.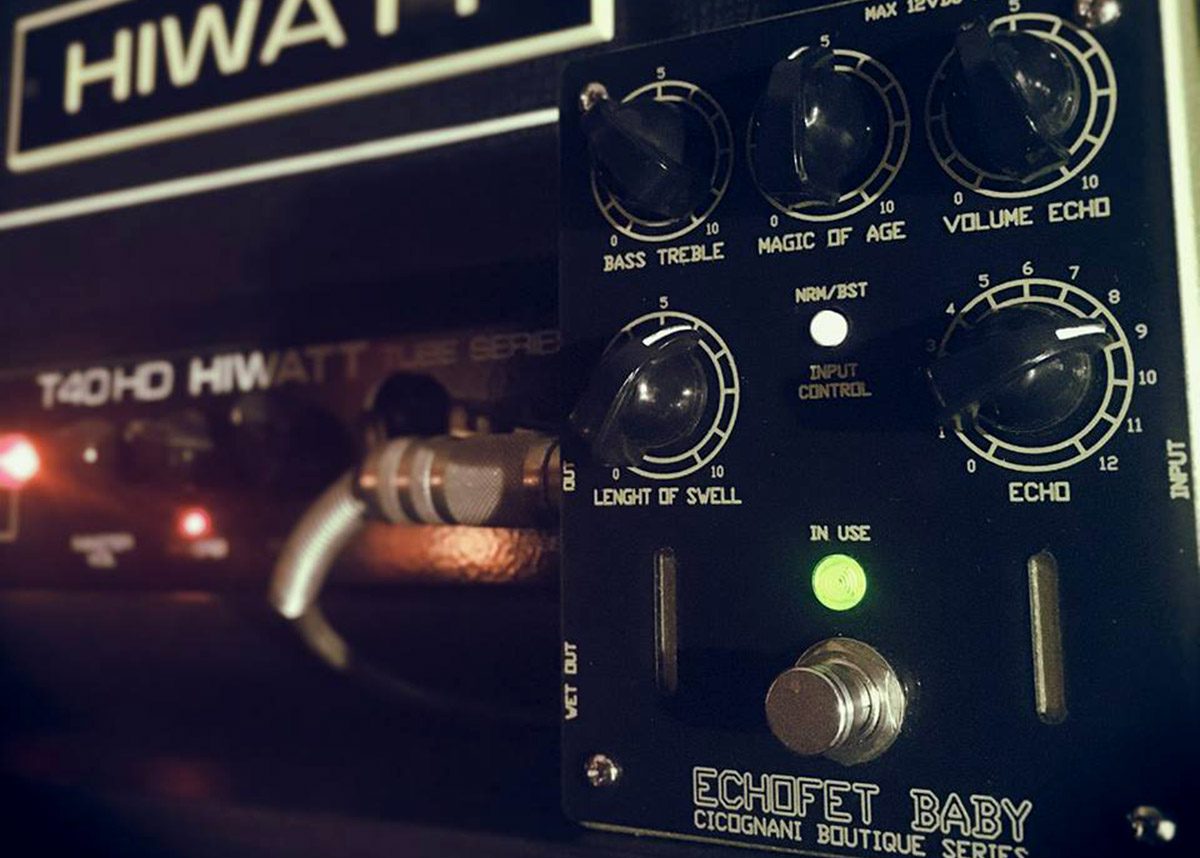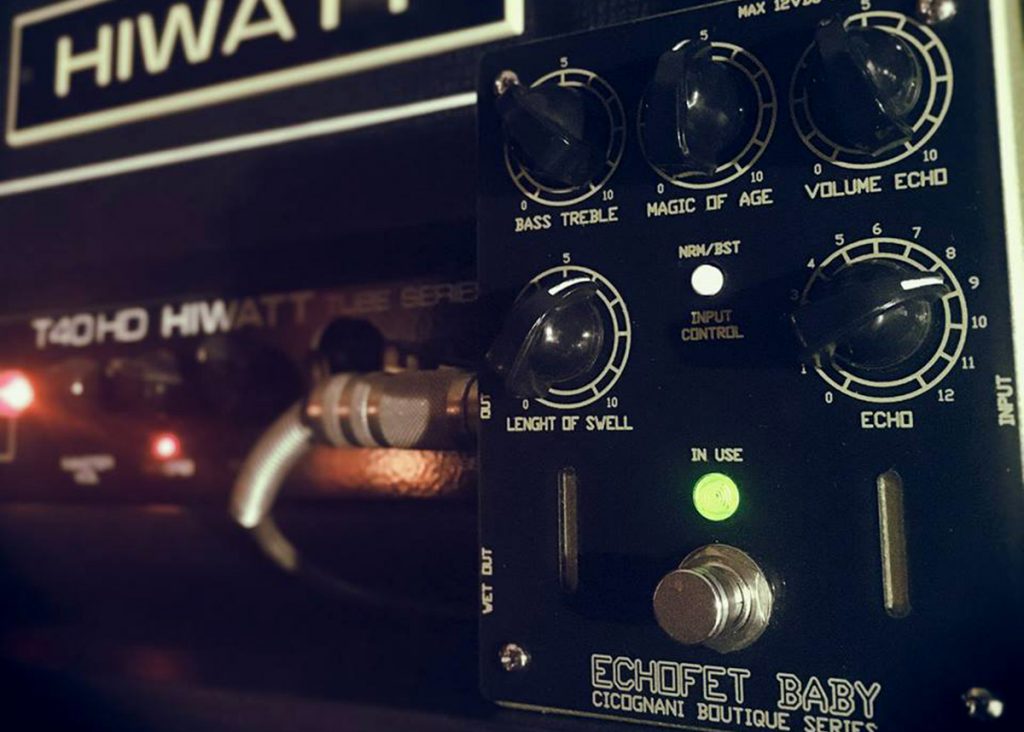 E' praticamente impossibile far sentire tutte le possibili sfumature di suono, ecco però alcuni sample audio dell'Echofet Baby
TIME – INTRO (circa 300 ms)
Black Strat > ECHOFET BABY > Amp
SET THE CONTROLS (circa 310 ms)
Black Strat > ECHOFET BABY > Amp
ECHOES – INTRO (circa 340 ms)
Black Strat > ECHOFET BABY > Amp
ECHOES – SEAGULL EFFECT (300-370 ms)
Black Strat > WAH WAH (reverse) > ECHOFET BABY > Amp
Il costo del pedale è di 279 € ed è acquistabile anche direttamente dal sito dell'azienda.
Per maggiori informazioni sul pedale potete visitare il sito ufficiale cicognani.eu oppure la pagina FB @CicognaniEnginnering