Sicuramente pensando a Gilmour la prima chitarra che ci viene in mente è una Stratocaster (Black o Red)… ed è innegabile che il "Gilmour Sound" sia effettivamente molto legato a questa chitarra.
E' pur vero, però, che ci sono anche altre chitarre con cui David ci ha regalato esecuzioni memorabili: è il caso, ad esempio, della Bill Lewis Custom Guitar oppure della Gibson Les Paul Gold Top… e anche, per rimanere in casa Fender, della Telecaster.
La Telecaster è spesso considerata la chitarra degli inizi di Gilmour con i Pink Floyd, ma in realtà è stata usata in modo costante anche negli anni successivi, sia per le registrazioni in studio sia per i live.
Vediamo quali sono le principali Telecaster usate da Gilmour (in ordine di "apparizione")
Telecaster White Blonde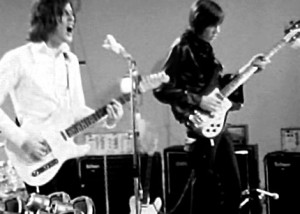 E' stata la prima chitarra usata da Gilmour con i Pink Floyd.
Telecaster in colorazione white blonde, con battipenna bianco e manico in palissandro, con la classica configurazione di pickup Fender Telecaster.
Questa era la chitarra usata da Gilmour già prima di entrare nei Pink Floyd: quando entrò nella band, Gilmour utilizzò nahce  la strumentazione di Syd, tra cui c'era proprio una Telecaster esattamente uguale a quella che già aveva.
La chitarra venne rubata (o che ci dice persa dalla compagnia aerea) nel 1968.
Telecaster Brown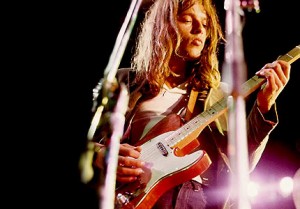 Dopo che la prima Telecaster di Gilmour venne rubata (o persa) nel 1968, David ne acquistò una nuova, con il corpo in colorazione Brown, battipenna bianco e manico in acero, sempre in configurazione standard con pickup Fender Telecaster.
La chitarra venne usata nelle registrazioni in studio e nei live di More, Ummagumma, Atom Heart Mother e Meedle.
Telecaster Sunburst Custom '59
Probabilmente una delle Telecaster più famose di Gilmour.
Fece la sua prima comparsa durante il tour del 1974 (foto a sinistra).
Telecaster con corpo in colorazione Sunburst (3 colori) e binding bianco, battipenna bianco e manico in palissandro.
La configurazione dei pickup è variata nel corso degli anni: inizialmente aveva al manico un pickup Gibson PAF humbucker, ma venne successivamente sostituito con un pickup Fender (per stratocaster)… ed è questa la configurazione utilizzata poi in Animals. (foto di destra)
Esquire 1955
Una delle chitarra di maggior valore della collezione di Gilmour è la Esquire del 1955.
La chitarra venne venduta a Gilmour da Seymour Duncan e venne usata per la prima volta nel primo album solista di Gilmour.
Esquire con corpo in colorazione Sunbusrt e manico in acero, chiamata "The workmate" per il livello di usura della vernice del corpo.
Rispetto alla configurazione standard Esquire (che non prevede pickup al manico) Gilmour fece modificare la chitarra montando al manico un pickup Fender (si dice avvolto di persona da Mr. Seymour Duncan).
La chitarra venne usata in studio e nei live di The Wall e nell'album solista About Face, recentemente Gilmour ha utilizzato nuovamente la Esquire in alcuni live.
Telecaster Butterscotch Blonde '52 Riessue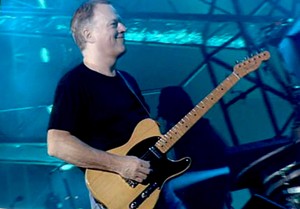 Vista per la prima volta nel tour Delicate sound of thunder e successivamente in PULSE.
Telecaster '52 Riessue con corpo in colorazione butterscotch blonde, battipenna nero e manico in acero, riedizione della Telecaster del 1952.
Telecaster White Blonde 1950 Custom Shop
L'ultima (in ordine di tempo) Telecaster vista a Gilmour.
Telecaster Custom Shop 1950 con corpo in colorazione Vintage White, battipenna bianco e manico in acero.
La chitarra è stata acquistata per il tour del 2006.