Torniamo a parlare di effetti… che non so se si è capito, ma è la cosa che mi piace di più!
Nuovo Album/Tour inseriti nella guida alle impostazioni degli effetti di Gilmour.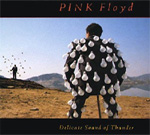 Si tratta dei setting degli effetti realtivi ai brani dell'album A MOMENTARY LAPSE OF REASON e relativo Tour DELICATE SOUND OF THUNDER.
Questo album e questo tour sono stati portati avanti dal 1988 al 1990 e puntualmente ad ogni esibizione è stato cambiato qualcosa nel setup, quindi non è facile stargli dietro.
Il setup preso come riferimento è quello del tour del 1990, quindi anche i setting dei brani sono quelli usati da Gilmour durante il tour, quindi live.
Preferisco, quando possibile, pubblicare i setup che vengono utilizzati nei live, perchè nelle sessioni in studio normalmente il setup è molto più complesso e difficile da riprodurre, mentre nei live (per necessità) viene semplificato molto, pur mantenendo sonorità pressochè identiche.
Trovate la guida qui