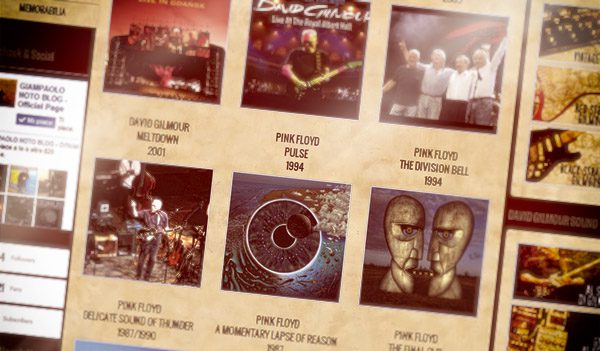 Era da tempo che pensavo ad un aggiornamento della sezione dedicata ai setup di David Gilmour ed in questi giorni, finalmente, ho avuto il tempo necessario per fare gli aggiornamenti.
Si tratta di un aggiornamento piuttosto importante ed è servito per ridisegnare la GUIDA AL SETUP sia da un punto di vista grafico sia da un punto di vista di contenuti.
AggLa GUIDA ora si presenta con immagini più grandi e meglio organizzate.
Ho ottimizzato i contenuti, dividendo i setup live dai relativi album, così ora ci sono guide separate per The Division Bell e PULSE cosi come per A Momentary Lapse Of Reason e Delicate Sound Of Thunder.
Ne ho approfittato anche per aggiungere tre guide che erano li pronte, in attesa di essere pubblicate: Atom Heart Mother, More, A Saucerful Of Secrets.
E con l'occasione ho fatto anche qualche correzione al materiale pubblicato.
Va detto che, in realtà, gli aggiornamenti e le modifiche sono continui nel tempo, proprio perchè queste guide si basano fondamentalmente sulle esperienze che faccio in prima persona suonando i Pink Floyd e cercando di riprodurre quelle specifiche atmosfere… e sui suggerimenti che arrivano dai tanti amici del blog.
Ci sono poi casi – come questo – in cui le modifiche sono così sostanziali e importanti, che meritano uno specifico articolo per raccontarle.