Come richiesto da molti amici qui del blog, approfondisco un po il discorso sulla chitarra Bill Lewis, usata da David Gilmour in occassione delle registrazioni di "The Dark Side of The Moon".
Molto spesso questa chitarra viene presentata anche con il nome Bill Lewis 24fret Guitar, proprio perchè la particolarità del manico con 24 tasti è stata una delle sue caratteristiche.
Per quanti tra voi stiano pensando di comprarne una… lasciate stare: la chitarra ovviamente non è più prodotta e quindi non è in vendita nei negozi di strumenti musicali; gli unici pezzi prodotti negli anni 60 vengono tenuti dai fortunati proprietari come reliquie.
Il valore stimato per questa chitarra è di circa 25.000 dollari (e non ho sbagliato il numero di zeri).
Vi basti pensare che Carlos Santana ha più volte espresso il desiderio di averne una… ma non è ancora riuscito ad averla.
Tornando alle caratteristiche, sia il manico sia il corpo della chitarra sono realizzati come pezzi unici, ovvero non incollando diverse parti di legno, ma lavorando un unico pezzo di legno; questa caratteristica unita all'utilizzo di pickup custom, garantiscono alla chitarra un suolo cristallino ed un sustain quasi infinito.
Tra gli estimatori e fortunati possessori di questa chitarra troviamo anche Eric Clapton e Jimmy Page.
Come detto non troverete questa chitarra in vendita perchè la Bill Lewis Custom Guitar non esiste più, nel 1978 è stata rilevata (insieme con i materiali ed i disegni delle chitarre) dalla Allied Lutherie.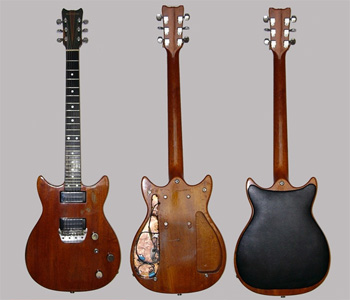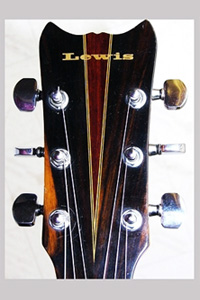 Immagini tratte dal sito http://www.raincoast.bc.ca/ – Le immagini sono di proprietà esclusiva dei titolari
Queste invece sono le immagini che ci ha inviato l'amico Les Clarke della sua bellissima Bill Lewis Guitar.
Aspettiamo con trepidazione che ci invii anche qualche sample audio per sentirla in azione.