Pur avendo più volte parlato degli speaker rotanti e dell'uso intenso che i Pink Floyd e David Gilmour ne hanno fatto, non ho mai approfondito il discorso per questo modello specifico.
E' giunto quindi il momento di dedicare un articolo ad hoc allo YAMAHA RA-200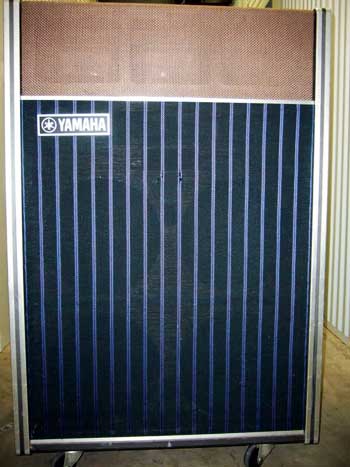 Si tratta di un amplificatore molto particolare: nato originariamente per essere utilizzato con le tastiere, prende spunto dal concetto di speaker rotanti – introdotto da Leslie – aggiungendo però alcune caratteristiche interessanti.
Iniziamo con il dire che (per la serie "forse non tutti sanno che…") l'amplificatore è un 200W a transistor… niente valvole!
La configurazione è realizzata con 3 speaker rotanti nella parte alta della cassa, più 4 fissi nella parte bassa della cassa.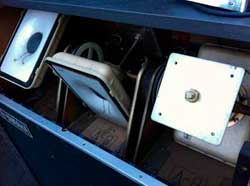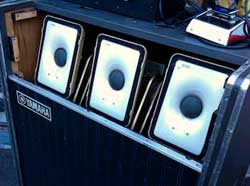 Un amplificatore si occupa dei tre speaker rotanti, mentre altri due sono dedicati agli speaker fissi, per un totale di tre differenti circuiti di amplificazione.
Sul retro ci sono i vari controlli: volume, bass, treble, reverb, tremolo.
Il tremolo agisce sulla velocità "Slow", mentre la velocità "Fast" è fissa.
Un footswitch permette di passare da una velocità all'altra (ed anche di selezionare quali speaker usare)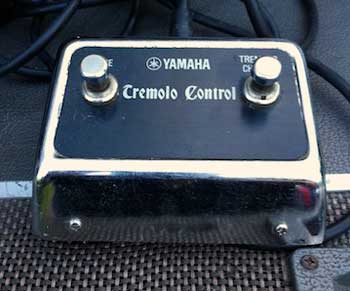 Questo amplificatore fa la sua comparsa nel setup di Gilmour, per la prima volta, nel 1976 durante le registrazioni di Animals… e da quel momento rimarrà sempre nell'arsenale di David Gilmour.
Successivamente venne utilizzato anche nelle registrazioni di The Wall ed anche in The Final Cut.
Sublime l'utilizzo di questo amplificatore in Dogs o nel solo di Comfortably Numb (studio), tanto per citarne un paio!
Più recentemente, l'amplificatore è stato usato anche nelle registrazioni delle jam presenti nel DVD "Live in Gdansk".
http://www.youtube.com/watch?v=j6nMuMwsNrk