di Salvo Inzerilli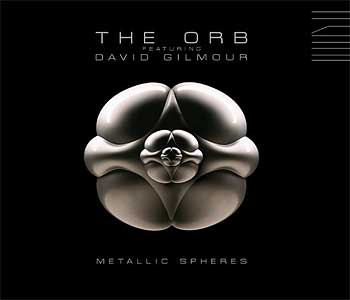 Molti di voi avranno sentito parlare in questi giorni del
nuovo progetto musicale che sta coinvolgendo David Gilmour.
La collaborazione con The Orb, una band inglese dalle sonorità elettroniche che spazia nel genere ambient house, inizia l'anno scorso quando David registrò una versione del brano Chicago di Graham Nash, assieme a Bob Geldof e Chrissie Hynde, per far conoscere e sensibilizzare l'opinione pubblica sulla situazione di Gary McKinnon, per il quale era stata chiesta l'estradizione da parte degli Stati Uniti con l'accusa di essersi "introdotto" nei loro sistemi informatici militari.
Martin "Youth" Glover (The Orb), che lavorava al mixaggio delle tracce di Chicago decise di invitare David nei suoi studi per delle sessioni di registrazione assieme ad Alex Paterson co-fondatore della band di Youth. Iniziava così tra il 2009 e il 2010 a prendere forma un album dal titolo Metallic Spheres, che verrà realizzato sotto il nome di The Orb featuring David Gilmour.
Metallic Spheres è concepito per essere ascoltato in due parti – 'Metallic Side' (24'48") e 'Spheres Side' (25'09") – ognuna delle due 'parti' contiene cinque movimenti.
In questo lavoro, vedremo Gilmour naturalmente alla chitarra elettrica ed anche alla lap steel guitar, più alcune sue parti vocali prese da Chicago; Alex Paterson (The Orb) contribuisce alla manipolazione del suono, tastiere e giradischi, mentre Youth aggiunge il basso, le tastiere e si occupa della produzione audio.
L'album uscirà a metà Ottobre in Nord America e Inghilterra; negli altri Paesi, sono ancora da confermare le date. Verrà realizzato in vari formati: oltre al CD standard, ci sarà la versione in digital download ed il caro vecchio LP in vinile. Ci sarà anche un Doppio CD Deluxe, in cui il primo disco è quello standard, mentre il secondo è stato realizzato in 3D60™, un nuovo processo di produzione audio, sviluppato dallo stesso Youth, Mike Brady (ingegnere del suono) e Ian Thompson (musicista e produttore multimediale), che permette una nuova esperienza di ascolto del suono tridimensionale più avvolgente, specialmente in cuffia.
Simon Ghahary, che collabora da tempo con la band, ha creato la copertina dell'album in totale continuità con lo stile 'spaziale' The Orb; e così come per il singolo Chicago, anche in questo caso tutte le royalties degli artisti andranno a contribuire alla causa di Gary McKinnon contro la sua estradizione.
[vimeo]http://vimeo.com/14302284[/vimeo]
Questo è il primo EPK delle sessioni di registrazione del disco, diretto da Gavin Elder (film-maker di Live In Gdańsk DVD). Un'atmosfera molto rilassata in cui David suona una delle sue Black Strat Signature NOS e una lap steel guitar doppio manico, probabilmente una Supro.

Fonti:
http://www.davidgilmour.com/
http://www.brain-damage.co.uk/latest/the-orb-featuring-david-gilmour-upcoming-release.html
http://it.wikipedia.org/wiki/Gary_McKinnon