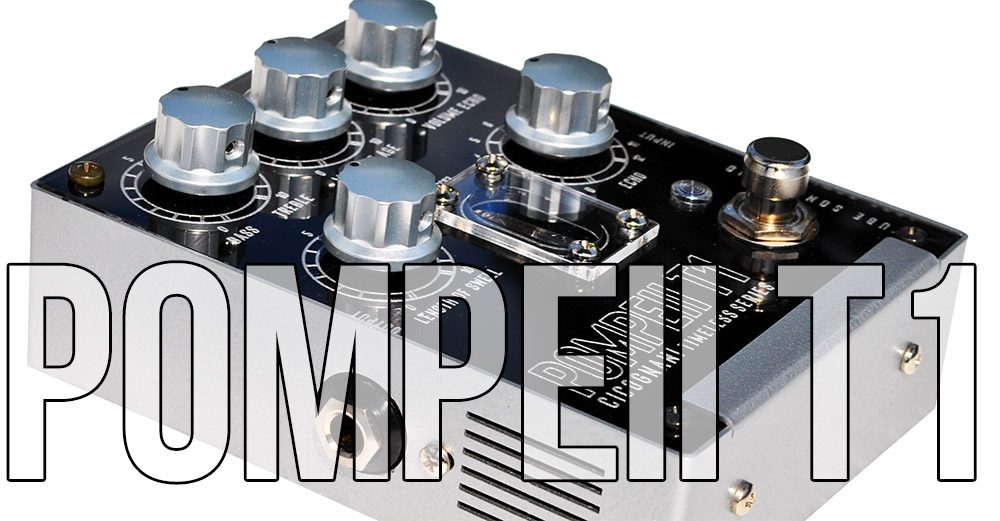 POMPEII T1 della Cicognani Engineering è un pedale eco compatto creato utilizzando il suono proveniente dalle testine 3 e 4 del POMPEII PE603.
BINSON ECHOREC
Come il POMPEII PE603 anche il POMPEII T1 è profondamente ispirato nelle sonorità al Binson Echorec il più famoso echo degli anni '60 prodotto dall'azienda italiana BINSON, con sede a Milano (Settimo Milanese) fondata dal progettista stesso dell'ECHOREC Ing. Bonfiglio Bini.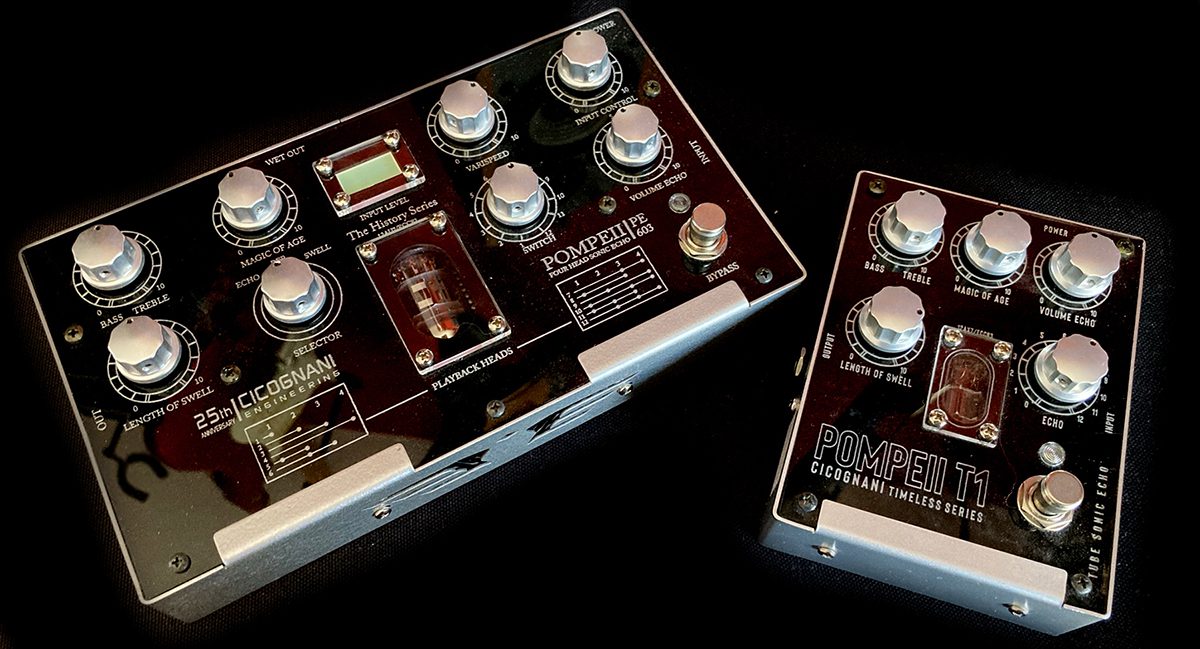 POMPEII T1
Come detto nel POMPEII T1 si utilizzano le due testine 3 e 4 del fratello maggiore PE603.
Questo echo quindi si posiziona a metà tra un multi heads ed un single head.
Il tempo di ritardo va da un minimo di 87ms ad un massimo di 520ms.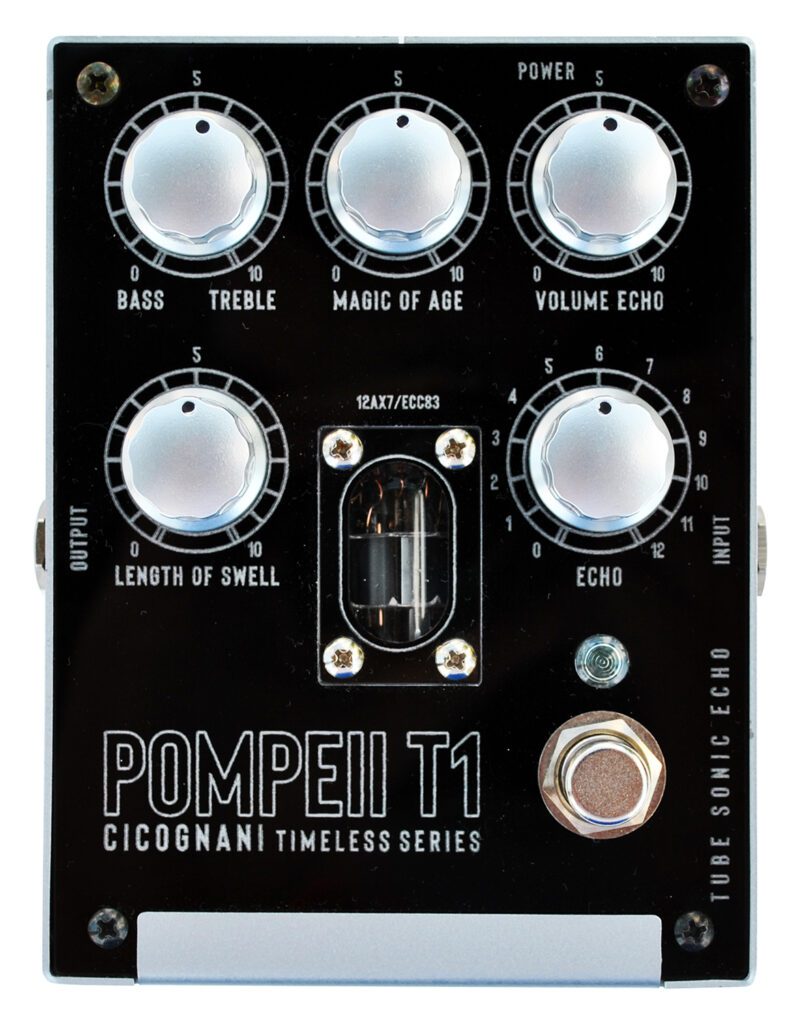 Questa la lista completa dei controlli:
BASS/TREBLE : controllo del tono delle ripetizioni.
MAGIC OF AGE : modulazione che simula il degrado della ruota gommata della versione originale.
VOLUME ECHO : Regolazione volume echo.
LENGTH OF SWELL : lungezza delle ripetizioni (feedback).
ECHO: Tempo di ritardo (87~520)
Il bypass è true bypass
INPUT : Ingresso (jack mono 6,3mm)
OUT : Uscita (jack mono 6,3mm)
Il pedale è alimentato a 12 Vdc con un assorbimento di circa 350mA.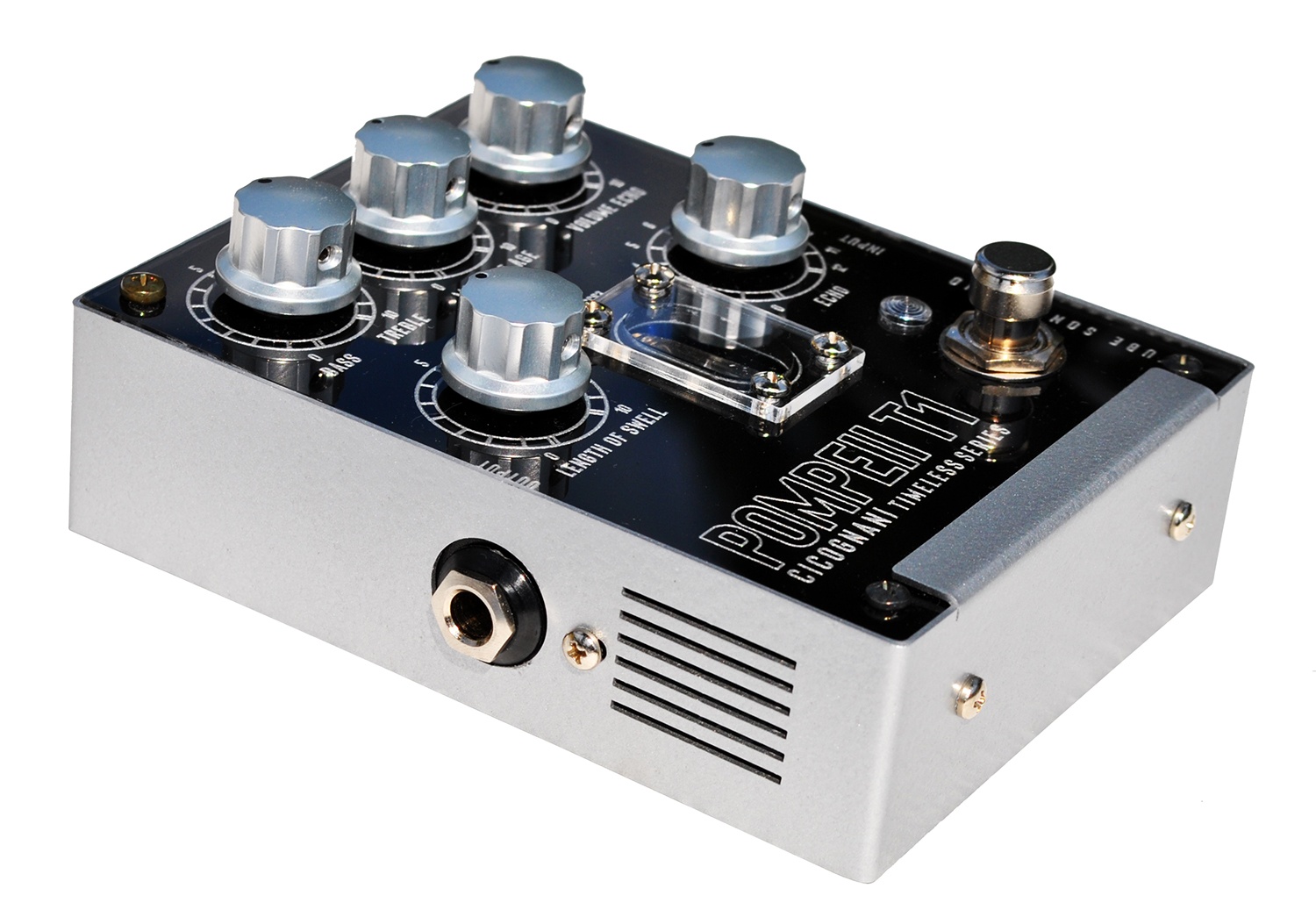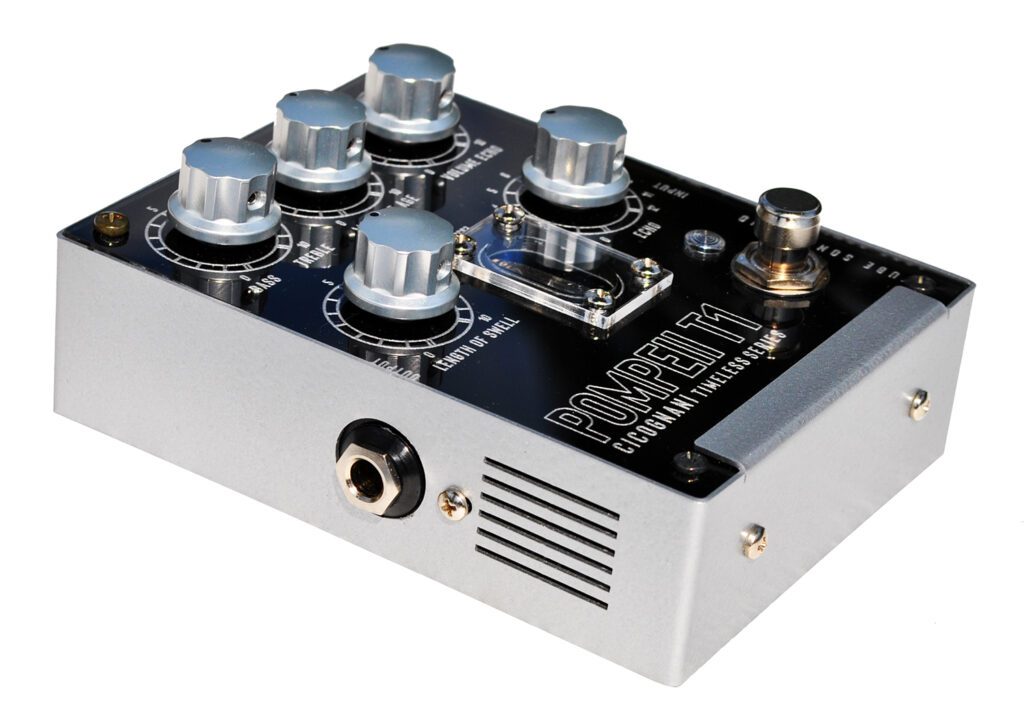 Il preamplificatore completamente valvolare regala un suono caldo e con una bellissima compressione.
La presenza poi di un mixer parallelo (passivo) con un livello di mix massimo di 50/50 tra dry e wet garantisce una qualità audio altissima con una "contaminazione" del segnale digitale rispetto l'analogico minima.
Il formato compatto del pedale permette di posizionarlo facilmente in pedalboard.
Da un punto di vista costruttivo il pedale è robusto e con una costruzione solida.
Il costo del pedale è di €329
Questo il link diretto alla pagina dedicata sul sito Cicognani
http://www.cicognani.eu/pompeii-t1/

SUONO
Il suono del pedale in parte già lo conosciamo, dato che deriva direttamente dal fratello maggiore PE603, da cui eredita la posizione con 3 e 4 testina.
Ecco qualche esempio di suono
TIME TEST
85ms – 300ms – 520ms

SYD'S THEME 
Magic of Age 0 – 5 – 10

US AND THEM
Black Strat > POMPEII T1 > Amp

SET THE CONTROLS
Black Strat > POMPEII T1 > Amp

ECHOES – INTRO
Black Strat > POMPEII T1 > Amp

ECHOES – SOLO
Black Strat > FUZZ > POMPEII T1 > Amp

ECHOES – SEAGULLS
Black Strat > Reverse WHA WHA > POMPEII T1 > Amp

Carefull With That Axe Eugene
Black Strat > POMPEII T1 > Amp
Black Strat > FUZZ > POMPEII T1 > Amp

VIDEO
E infine la video recensione … buona visione!