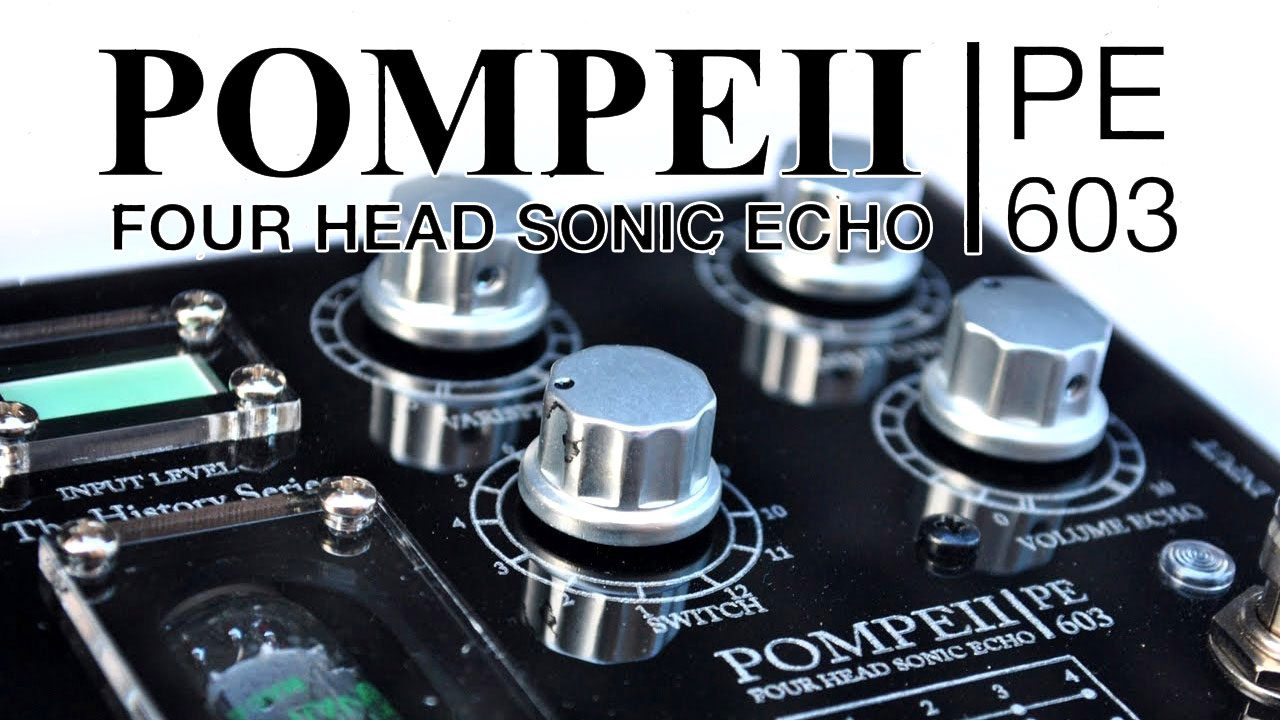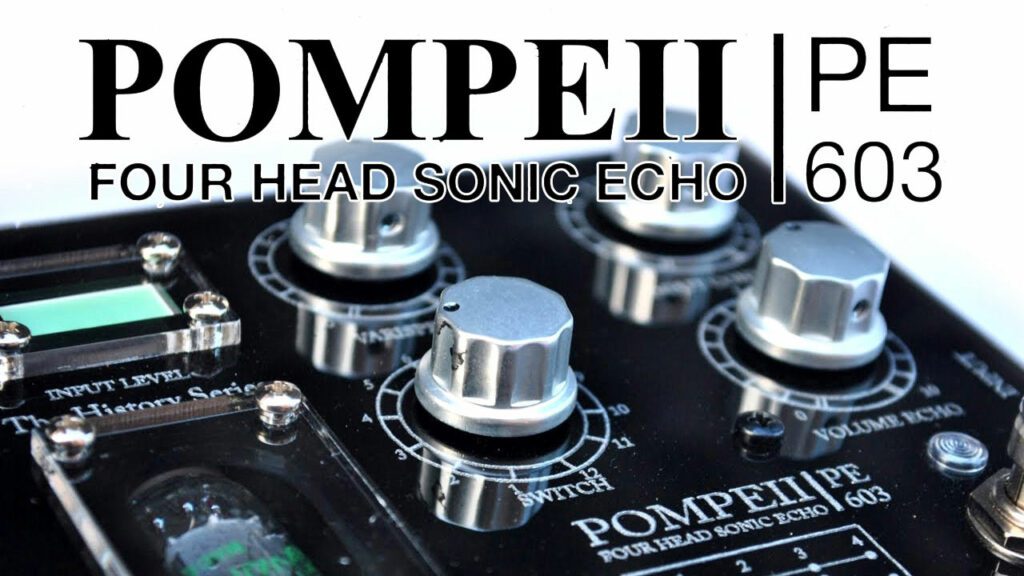 Il POMPEI PE603 è il nuovo Echo prodotto dalla Cicognani Engineering, ispirato al Binson Echorec.
UN PO DI STORIA
Il pedale si ispira profondamente al Binson Echorec il più famoso echo degli anni '60 prodotto dall'azienda italiana BINSON, con sede a Milano (Settimo Milanese) fondata dal progettista stesso dell'ECHOREC Ing. Bonfiglio Bini.
In particolare questo pedale si ispira alla versione PE603TU del Binson Echorec, prodotta nel periodo tra il 1971 ed il 1982, che aveva un tempo di ritardo maggiore e si presentava in un formato rack.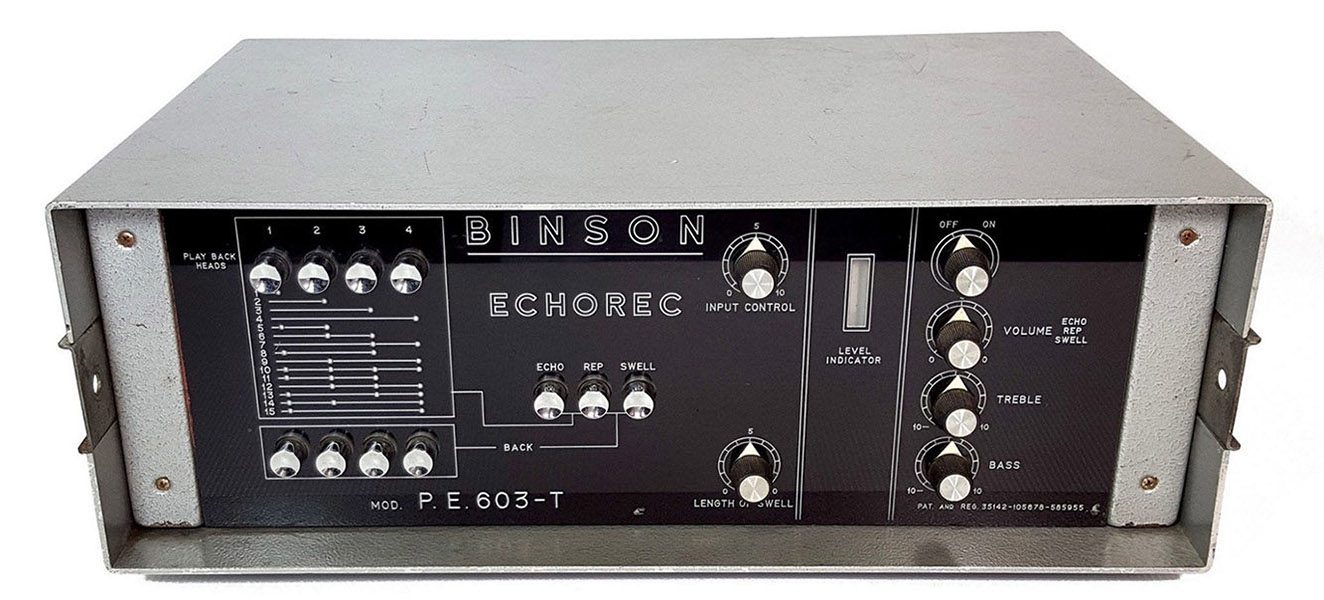 Questa versione dell'Echorec venne usata dai Pink Floyd in diverse occasioni, se ne può vedere uno vicino a Waters nelle riprese di Pompeii (da qui il nome) oppure nel setup di Gilmour in diverse date del tour di The Dark Side nel periodo tra il 1973 ed il 1975.
POMPEII PE603
Il POMPEII PE603 mira a far rivivere il suono magico del Binson Echorec PE603T in un formato di pedale più piccolo rispetto all'originale e con prestazioni sonore migliorate.
Si tratta di  un echo "multi-head" che utilizza le stesse prime dodici posizioni di commutazione dell'originale PE603T.
Come nell'originale Echorec ci sono tre diverse modalità di uso: Echo, Repeat. Sweel.
In modalità Echo la ripetizione è singola, in Repeat è possibile utilizzare combinazioni multiple delle 4 testine, mentre in Swell si crea un riverbero con l'uso simultaneo di tutte le teste.
Nel Binson, spesso veniva realizzata una modifica, chiamata comunemente "VARISPEED MOD" che permetteva di cambiare velocità, allungando il tempo tra le testine di registrazione e riproduzione (e quindi le ripetizioni).
Applicando lo stesso concetto è stato introdotto il controllo VARISPEED che permette di regolare il tempo di ritardo.
I tempi di ritardo vanno da un minimo di 95ms (head 1 – varispeed 0) ad un massimo di 740ms (head 4 – varispeed 10).
Nello specifico le quattro testine hanno i seguenti tempi di ritardo
HEAD1      95ms
HEAD2    190ms
HEAD3    285ms
HEAD4    380ms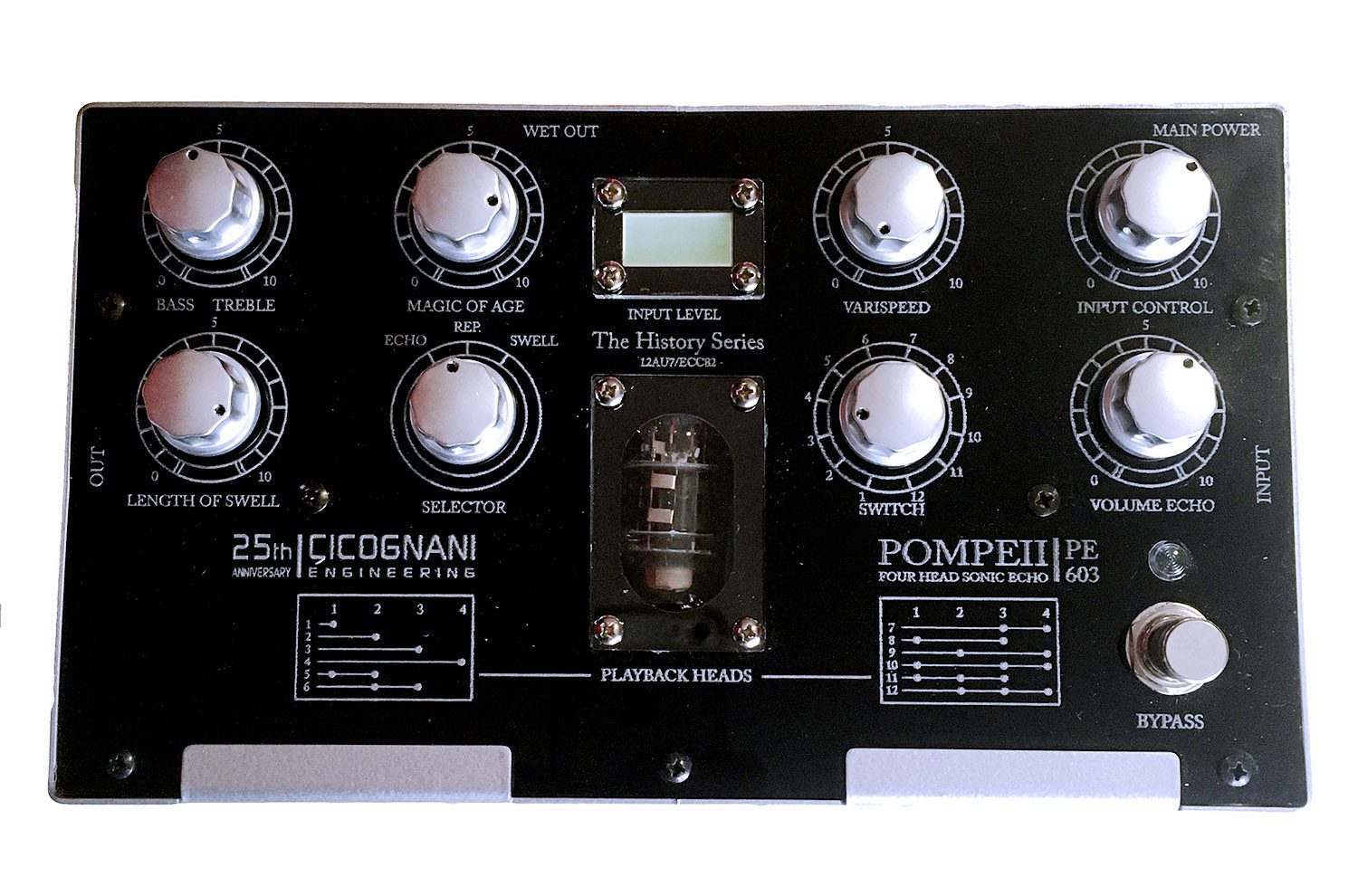 Questa la lista completa dei controlli
BASS/TREBLE : per il controllo del tono (ripetizioni)
MAGIC OF AGE : modulazione che simula il degrado della ruota gommata della versione originale
LENGTH OF SWELL : lungezza delle ripetizioni (feedback)
SELECTOR : Echo/Rep/Swell
VARISPEED : Tempo di ritardo
INPUT CONTROL : Regolazione del livello di ingresso
SWITCH : Selettore combinazione testine
VOLUME ECHO : Regolazione volume echo
Le connessioni sono
INPUT : Ingresso (jack mono 6,3mm)
OUT : Uscita (jack mono 6,3mm)
WET OUT : Uscita solo segnale effettato (jack mono 6,3mm) (LO Z)
Sul retro del pedale è presente un piccolo jumper che, se rimosso, abilita nel pedale il "fade out" (o tail-fx).
Il pedale è alimentato a 12 Vdc con un assorbimento di circa 350mA (suggerito alimentatore da 12Vdc 500mA)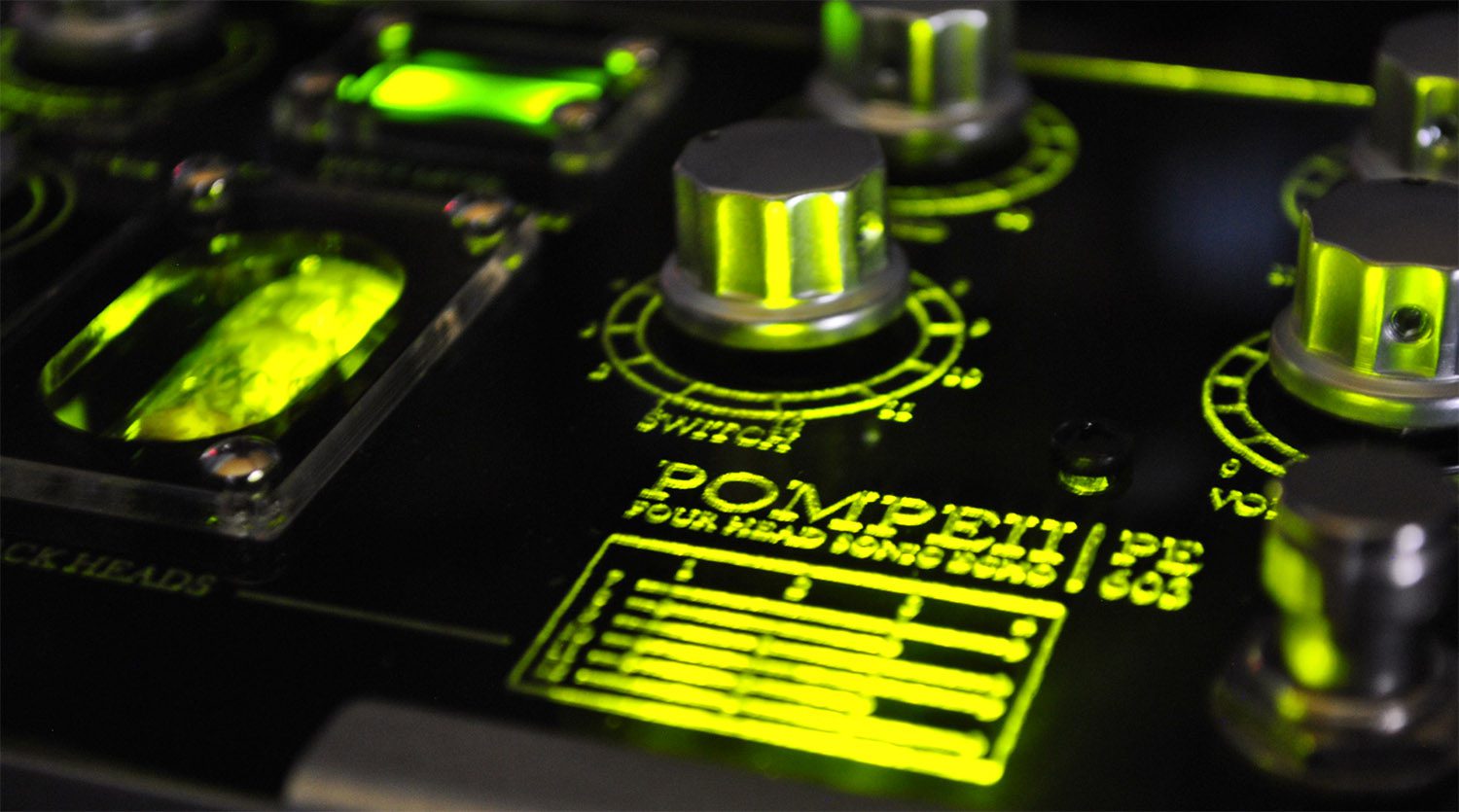 Altra caratteristica interessante da segnalare è la possibilità di utilizzare il pedale in molteplici diversi setup, grazie alla gestione del livello di input : diretto nell'amplificatore (in front) o nel loop effetti, ma anche come effetto per tastiera o altro strumento e come outboard in un banco mixer.
Il segnale (wet & dry) passa attraverso una valvola 12AU7 per il suono più caldo con la massima trasparenza.
Da un punto di vista costruttivo il pedale è robusto e con una costruzione solida.
La finitura è in argento martellato, con pannello comandi nero retroilluminato verde.
Il costo del pedale è di €499
Questo il link diretto alla pagina dedicata sul sito Cicognani
http://www.cicognani.eu/pompeii-pe603/
SUONO
Prima di passare ai test di suono, occorre fare una important precisazione, circa l'uso che i Pink Floyd ed in particolare David Gilmour hanno fatto dell'Echorec.
Spesso si pensa che la caratteristica fondamentale per cui veniva usato l'Echorec fosse la combinazione delle multitestine, ma in realtà non è così: l'echorec veniva usato quasi eclusivamente in modalità mono testina, ovvero selezionando una delle prima quattro posizioni dello switch; solo raramente, Gilmour ha utilizzato combinazioni multi testina e in quei casi sempre utilizzando la posizione 7 con head 3 + head 4.
Questa scelta (H3+H4) ha un motivo ben preciso : si tratta della combinazione di due delay con tempo di 3/4 e 4/4.
Ecco qualche esempio di suono
SYD'S THEME 
Single Head vs Multiple Heads (~ 440ms)

TIME – INTRO
Switch 7 – Head 3 + 4 (~ 285 + 380 ms)
Black Strat > Pompeii PE603 > Amp

SET THE CONTROLS
Switch 3 – Head 3  (~ 310 ms)
Black Strat > Pompeii PE603 > Amp

ECHOES – INTRO
Switch 3 – Head 3  (~ 310 ms)
Black Strat > Pompeii PE603 > Amp

ECHOES – SOLO
Switch 3 – Head 3  (~ 310 ms)
Black Strat > Fuzz BC109 > Pompeii PE603 > Amp

ECHOES – SEAGULLS
Switch 4 – Head 4  (~ 380 ms)
Black Strat > reverse Wha Wha > Pompeii PE603 > Amp

VIDEO
E qui la video recensione, in cui trovate anche una BONUS TRACK con POMPEII utilizzato sia su chitarra sia su voce in una imporovvisazione su Carefull With That Axe Eugene … buona visione!