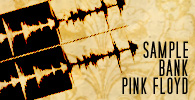 Altri Sample appena aggiunti nella Sample Bank!
Un ringraziamento a Giulio, che ha voluto condividere i suoi sample!
Si tratta di One Of These Days, Astronomy Domine, Comfortably Numb, Empty Spaces, The Trial…
…i sample sono già pubblicati e disponibili nella Sample Bank!
Vi ricordo che per accedere alla sezione Sample Bank, potete usare il link in alto (menù) o il pulsante sulla barra laterale di destra.
Come sempre chiunque voglia contribuire, può inviare il proprio materiale inviando una email all'indirizzo info@giampaolonoto.it