Quante volte è capitato che alla fine di una prova con la vostre band, qualcuno abbia detto:
"Abbiamo suonato bene… certo se ci fosse stato quel loop, come nell'originale, sarebbe stato perfetto!"
Bene, chiamate il vostro amico tastierista (o chi si occupa dei sample e loop) e ditegli di venire sul blog!
Dopo la Patch Bank e la Tabs Bank, apriamo oggi la Sample Bank!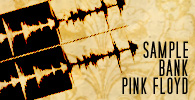 Si tratta di una nuova sezione dedicata alla raccolta di sample e loop dei Pink Floyd: dall'elicottero di In The Flash, alle monete di Money… e ovviamente molto altro!
I sample sono in formato mp3 e sono divisi per album; è disponibile un preview audio, per ascoltare in tempo reale il sample che ci interessa.
Questo è un esempio di un sample disponibile:
Helicopter with vocals
[audio:https://www.giampaolonoto.it/samplebank/THE WALL – Helicopter with vocals.mp3]
DOWNLOAD
La prima riga è il titolo del sample, nella seconda riga trovate il player audio per ascoltare il sample e la terza riga è il link per il download (cliccare con il tasto destro su download e scegliere "Salva link con nome…")
Come detto con oggi apriamo questa nuova sezione… ma questo non significa che la sezione sia definitiva, anzi… siamo solo all'inizio…
…come per la Patch Bank e la Tabs Bank, anche in questo caso vi invito a contribuire in prima persona, inviando il vostro materiale per email.
Per accedere alla sezione Sample Bank, potete usare il link in alto sul menù o il pulsante sulla barra laterale di destra.
Un ringraziamento, infine, a Lucio, che ha condiviso con tutti noi i suoi sample… e che con il suo materiale ha dato un fondamentale contributo per far partire questa nuova sezione. Grazie!