Abbiamo spesso analizzato e lodato le esaltanti performance artistiche di Gilmour nei vari show e concerti… ma forse non abbiamo mai sottolineato abbastanza l'importanza della band di "supporto" per ottenere tali risultati. (come giustamente ha sottolinato l'amico Peppe)
Da sempre i Pink Floyd e David Gilmour amano contornarsi di musicisti di altissimo livello: basti pensare ai vari Guy Pratt, Jon Carin, Dick Parry, Tim Renwick o Phil Manzanera… tanto per citarne alcuni.
Volendo dedicare un piccolo (ma doveroso) spazio ad ognuno di loro, partiamo parlando di Phil Manzanera.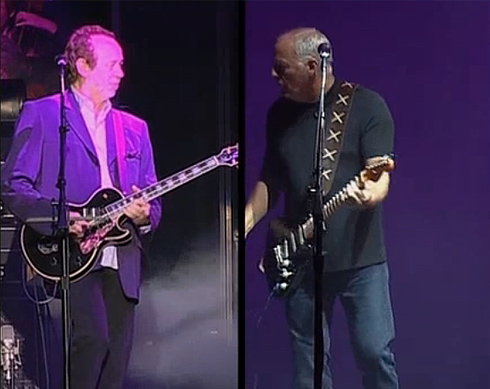 Phil Manzanera (alias di Philip Targett-Adams) è un chitarrista britannico che ha saputo coniugare in modo superbo le influenze musicali del Rock and Roll, quelle più estreme del Punk inglese e quelle più sperimentali del jazz elettrico con quelle (completamente differenti) dei ritmi Latino Americani.
Nel corso degli anni Phil ha collaborato con moltissimi musicisti, tra cui Dave Jarrett, Robert Wyatt, Bryan Ferry, Brian Eno… e molti altri; Phil è inoltre fondatore e membro permanente dei Roxy Music.
Alla brillante carriera da chitarrista, Manzanera, affianca anche quella di produttore con il proprio studio "Gallery Studios" a Londra: in questa struttura hanno registrato, tra gli altri, Brian Eno, Annie Lennox, Robert Wyatt's e ovviamente David Gilmour.
L'incontro con Gilmour risale a molti anni addietro, ma solo sul finire del 2005 si concretizza tra i due una collaborazione artistica: Phil Manzanera è il co-produttore dell'album "On An Island" (2006) ed il chitarrista della band di supporto del successivo tour.
Phil compare anche nei due DVD "Remember That Night" e "Live in Gdańsk".
Riguardo al setup usato da Manzanera, anche se è rimasto piuttosto immutato nel tempo, non è semplicissimo ricostruire il suo intero setup… queste le informazioni al momento disponibili (aggiornamenti seguiranno):
CHITARRE
– Gibson Firebird (rossa/bianca dei primi anni 70)
– Gibson Les Paul Black
– Gibson Les Paul Black Custom (con inserto in madreperla)
– Fender Stratocaster White (due modelli con uscita MIDI)
– Fender Telecaster
– Blade
UNITA' EFFETTI
– Pete Cornish Pedalboard (usata da Gilmour tra il 1988 ed il 1994) con: MXR Dyna-Comp, SS-2, Big Muff, Electric Mistress, Boss CE-2, Boss DD-2.
Qui uno dei duetti con Gilmour durante LIVE IN GDANSK