La notizia (clamorosa) è arrivata in modo del tutto inaspettato, con un tweet di Polly Samson che, nel pomeriggio di Sabato 5 Luglio, ha scritto queste due righe su twitter:
"Btw Pink Floyd album out in October is called "The Endless River". Based on 1994 sessions is Rick Wright's swansong and very beautiful."
La notizia ha fatto subito il giro del mondo e poco dopo è arrivata qualche prima conferma, tra cui questo messaggio, apparso sulla pagina facebook di Durga McBroom (corista Pink Floyd):
"YES. THERE IS A NEW PINK FLOYD ALBUM COMING OUT. AND I'M ON IT. And there was much rejoicing."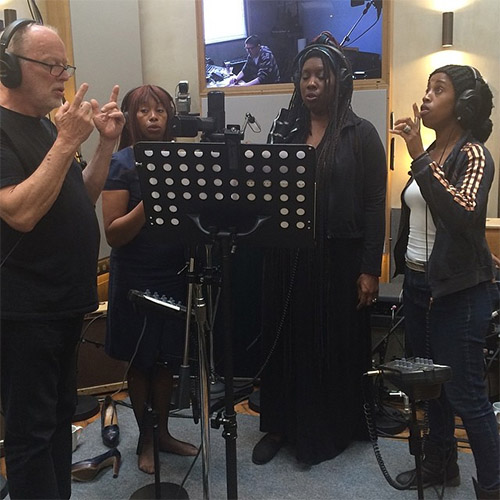 Insomma, se è vero che due indizi fanno una prova… direi che la notizia sembra confermata.
Non è chiaro a questo punto se fosse questo il progetto a cui lavorava da tempo Gilmour o se si tratti di due progetti differenti.
Quello che è chiaro è che il nuovo album sarà a marchio Pink Floyd e dovrebbe uscire ad Ottobre 2014 con il titolo The endless river.
L'album (stando a quanto scrive Polly) sarebbe basato sulle registrazioni fatte da Richard Wright nel 1994… e definite dalla stessa Polly come "il canto del cigno di Rick… e bellissime!"
Si sapeva, in effetti, dell'esistenza di molto materiale inedito registrato proprio in quel periodo… e per molto tempo si è fantasticato (e sperato) in un album di inediti realizzato proprio con quel materiale: ora sembra che quelle fantasie, possano diventare realta!
AGGIORNAMENTO DEL 07/07/2014
Questo il comunicato ufficiale sul profilo facebook dei Pink Floyd
"Pink Floyd can confirm that they are releasing a new album "The Endless River" in October 2014. It is an album of mainly ambient and instrumental music based on the 1993/4 Division Bell sessions which feature David Gilmour, Nick Mason and Richard Wright. The album is produced by David Gilmour with Phil Manzanera, Youth and recording engineer Andy Jackson. Work is still in progress, but more details to come at the end of the Summer."
Da questo comunicato si capisce che sarà un album fondamentalmente strumentale, basato su materiali registrati nel periodo di The Division Bell.
La partecipazione al progetto di Youth (Martin Glover) da una connotazione piuttosto precisa al progetto e richiama (forse) le sonorità ascoltate nel disco Metallic Spheres dei The Orb in cui suona proprio David Gilmour.