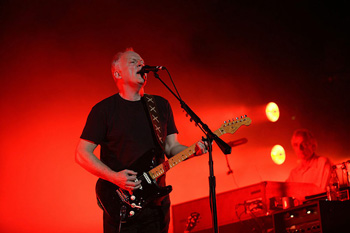 Come segnalato dall'amico Luca, arriva un nuovo, ennesimo, riconoscimento per David Gilmour e Comfortably Numb.
Dopo essere stato eletto da "Planet Rock" il migliore assolo di sempre è ora la volta di un altro prestigioso premio… questa volta per l'incredibile sound di quel brando e quell'assolo.
La rivista inglese "Guitarist Magazine" ha infatti eletto Comfortably Numb – nella sua versione originale del 1979 – il brano con il miglior suono di chitarra di tutti i tempi. ("the greatest guitar tone of all time")
Questa la classifica completa
1. David Gilmour – Comfortably Numb
2. Jimi Hendrix – Voodoo Child (Slight Return)
3. Eddie Van Halen – Sinner's Swing
4. Brian May – Play The Game
5. Stevie Ray Vaughan – Couldn't Stand The Weather
Per chi volesse approfondire consiglio la lettura della sezione dedicata "GUIDA AL SETUP DI GILMOUR", dove potrete trovare alcune indicazioni (di massima) sul setup usato da David per ottenere quell'incredibile ed unico sound.