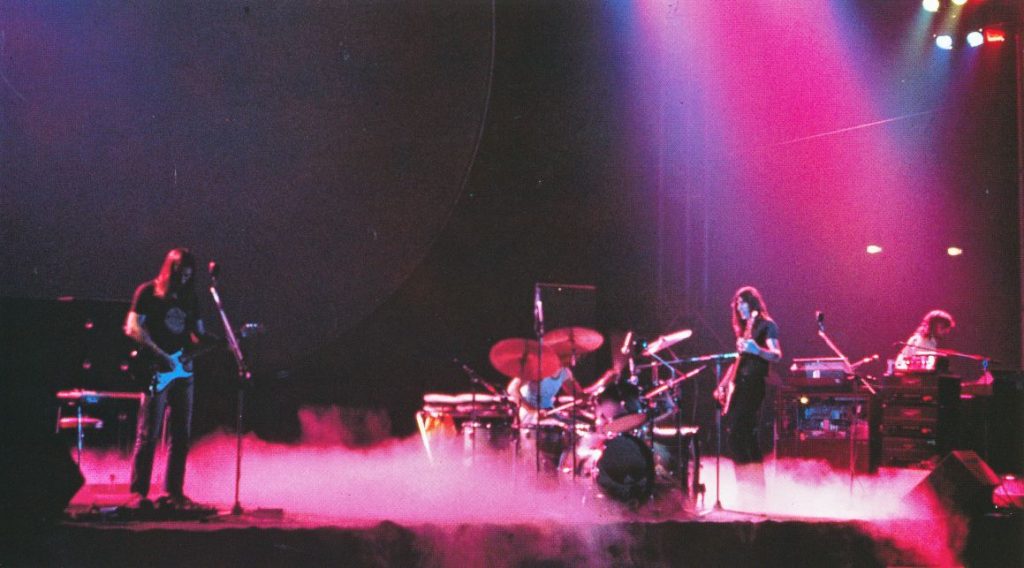 Per le registrazioni di The Dark Side Of The Moon il setup utilizzato da David Gilmour è molto "classico": una catena effetti realizzata collegando tra loro pochi effetti a pedale.
Infatti solo a partire dall'album Animals Gilmour inizierà ad utilizzare una soluzione con pedalboard completa realizzata da Cornish
Gli effetti qui riportati fanno riferimento alla configurazione usata da Gilmour nella registrazione in studio dell'album.
Nelle successive performance live a questa configurazione verranno poi aggiunti altri pedali, per rendere il sound più vicino a quello dell'album.

PEDALBOARD
Dallas Arbiter Fuzz Face
Colorsound Power Boost
Univox Uni Vibe
DeArmond 1602 Volume Pedal
Binson Echo Rec 2
EMS Synthi
IMPOSTAZIONI DEGLI EFFETTI
DALLAS ARBITER FUZZ FACE
Fuzz 100% • Volume 70%
COLORSOUND POWER BOOST (Overdrive)
Treble 20% • Bass 50% • Volume 20%
COLORSOUND POWER BOOST (Distorsore)
Treble 20% • Bass 50% • Volume 60%
UNIVIBE
Volume 90% • Intensity 80% • Rate 50%
BINSONE ECHOREC
tempo 310 ms • Repeat mode
IMPOSTAZIONI DEGLI EFFETTI PER BRANO
Ci sono diverse versione di TDSOTM con un sound leggermente differente: l'uso dell'univibe, ad esempio, è variabile; si posso usare questi setup sia con l'univibe sia senza, a seconda del tipo di sound che si vuole ottenere (1972 Preparazione dell'album o 1973/75 Registrazione e Live dopo pubblicazione).
Da considerare anche che molte volte l'univibe è stato aggiunto nelle performance live, per simulare il sistema Leslie, usato invece in studio.
Stesso discorso per il Colorsound, che è stato aggiunto solo dopo la registrazione in studio.
BREATHE
Stratocaster > Colorsound (boost) > Uni Vibe > Binson Echorec
ON THE RUN
EMS Synthi Hi-Fli
TIME
Stratocaster > Colorsound > Binson Echorec
Stratocaster > Fuzz Face > Colorsound (overdrive) > Binson Echorec
BREATHE (Reprise)
Stratocaster > Colorsound (boost) > Uni Vibe > Binson Echorec
THE GREAT GIG IN THE SKY
Fender Lap Steel > Binson Echorec
accordatura aperta in SOL (RE SOL RE SOL SI MI)
MONEY
Stratocaster (Bill Lewis in studio) > Colorsound (overdrive) > Binson Echorec
Stratocaster (Bill Lewis in studio) > Fuzz Face > Colorsound (overdrive) > Binson Echorec
US & THEME
Stratocaster > Uni Vibe > Binson Echorec
ANY COLOR YOU LIKE
Stratocaster > Colorsound (distrorsore)> Uni Vibe (fast)> Binson Echorec
BRAIN DAMAGE
Stratocaster (Bill Lewis in studio) > Uni Vibe > Binson Echorec
Stratocaster (Bill Lewis in studio) > Colorsound (boost) > Uni Vibe > Binson Echorec
ECLIPSE
Stratocaster (Bill Lewis in studio) > Colorsound (boost) > Uni Vibe > Binson Echorec